Employers happy about Delhi heat, as employees put in longer hours at work
Jun 07, 2017 05:32 PM IST
From watching series and chilling in the AC to catching up with colleagues or browsing sites, employees in Delhi will do anything but step out in the heat. We talk to a few and give you their reasons for staying in longer at work.
New Delhi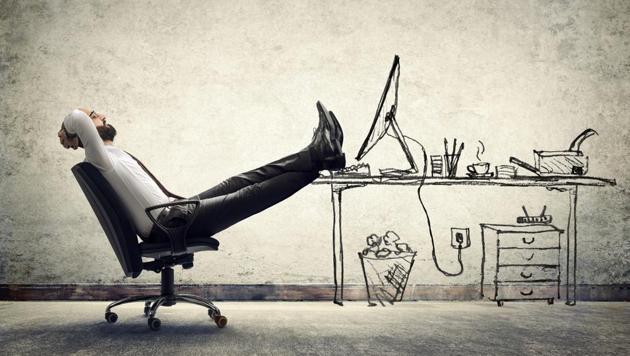 Office can be pretty stressful with lots of work, bad bosses and deadlines. But, the one thing that makes Delhiites bear all this is, the Delhi heat! The sweltering heat (what with the mercury hitting the 42 degrees Celsius) is making employees stay in offices longer.
To save themselves from the heartless heat, many employees now prefer chilling in office to leaving early or on time. In fact, some human resource managers tell us that the attendance during these days has been rather good.
How does that help? Some employees just sit in simply for the AC (to save themselves from exorbitant electricity bills at home, and, of course, the heat outside) , others prefer to catch up on TV shows online or meet a loved one in the office cafe. We talked to a few and here is what they had to say:
TO AVOID HEAT AND TRAFFIC
"I live in Gurgaon and have to travel all the way to Noida for office. My office ends at 6.30, but travelling back before 8 is stupidity because of the rush and the heat. I stay in to read a book or just browse sites," says Aashima Singh*, a graphic designer.
A 'COOL' WAY TO SAVE
Suchir Sharma, a marketing professional who works in Okhla says, "My office provides me free AC, Wi-Fi, and great food at reasonable rate in the canteen. I prefer the 20 degree temperature inside the office to the 40 degree temperature outside. Akele rehta hoon; ek to pehle public transport mein ghar jaao, upar se khana banao, and phir bada sa bill pay karo. Kabh kabhi to light bhi nahi hoti, usse accha to office mein hi reh lo thoda aur. AC bhi kafi strog hai office ka (I live alone; first going back home in public transport is a pain, then making food and above all of it is the big bill I have to foot for a house that often has no electricity. It's just better staying back in office.)," he says.
SUMMER LOVIN'
Ritu and Prateek Verma, a couple who work for the same company, avoid the heat and use that time to talk about their day and grab a snack. "We usually get free around the same time. Although we're married, we stay in a house that has 13 people. The heat isn't the only killer, we also get no real time after work except when we just crash in bed. Staying in helps us avoid the pollution and heat, and also gives us enough time for a quick cafeteria date," says Ritu.
And, what does the HR think of this? Do they even know?
ALL SEEING HR
"The HR always finds out," laughs Sakshi Malhotra, who is a human resources generalist at a tech firm in Gurgaon. "We know that many employees who are rather punctual when it comes to leaving otherwise, stay in longer during summer. I could tell you just how many stay, for how long and do what all, but we don't mind that. These employees get no extra money for staying, and actually end up working a little more, which just scores some productivity points for them," she adds.
MASKED CHILLING
Nipun Yadav, another HR manager at a design company says that employees do try to appear as if they have work left, just so they get to hang around in office a little longer. "They try faking work, and that is where it gets a little obvious. We aren't a very big company, so everyone knows what everyone is up to. But then, what can one really say. We let them stay, let them be happy, and expect that they do not take this for granted. We've had people watching movies or series on a different tab, exhausting the office internet. And, that we have dealt with, but only if it is a regular thing. Guess everyone needs a breather," he says.
*Some names have been changed on request
Follow @htlifeandstyle for more.
"Exciting news! Hindustan Times is now on WhatsApp Channels
Subscribe today by clicking the link and stay updated with the latest news!"
Click here!