Fire in same Delhi building where 43 people were killed, brought under control
Updated on Aug 03, 2020 01:57 AM IST
Forty three people died in a devastating fire that ripped through the illegal factory in Anaj Mandi early on Saturday.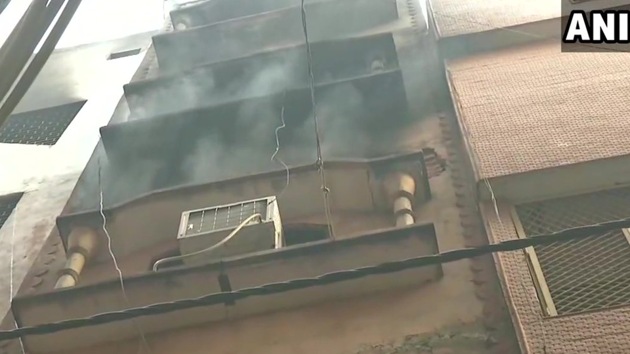 Hindustan Times, New Delhi |
HT Correspondent
Two fire tenders were sent to the same building in north Delhi's congested Anaj Mandi area where 43 people were killed in a massive blaze on Sunday after smoke was seen on the second floor, officials said.
"It was a small fire. People saw smoke and called Delhi Fire Service. The fire was controlled," the DFS' chief Atul Garg said.
Two fire tenders were sent but firefighters found that it was only smoke from some cardboard burnt on Sunday. They said the tenders were not required.
Forty-three people, mostly labourers, died and dozens of others were injured in the devastating fire that ripped through the illegal factory in Anaj Mandi early on Saturday. It was the worst blaze in 20 years that exposed shoddy city planning and lax enforcement of fire safety rules in the Capital.
Also Watch l Delhi Anaj Mandi fire: Visuals of locals rescuing victims as blaze broke out
Twenty people were injured in the fire which broke out in the four-storey building that housed at least five different unlicensed units manufacturing bags, plastic toys and jackets, and employed roughly 70 workers who also slept on the floor at night.
The building had only a few windows and just one narrow entrance, effectively turning the structure — built in a cramped neighbourhood with serpentine lanes — into an inferno around 5am.
Most of the factory workers lived in cramped rooms that were shared by 10 to 15 men each.
The crowded rooms and lack of ventilation meant most people inhaled a lot of smoke resulting in inhalation injuries, or acute injuries to the lungs and respiratory system.
"The actual cause of death will come out in the post-mortem but prima facie it looks like most deaths have happened due to inhalation injuries. There aren't many burn injury marks on the bodies," said HR Singh, head of emergency medicine department, Lady Hardinge Medical College.
Most victims of the fire were young, migrant labourers and many of them minors who had moved to the city from places such as Samastipur, Madhubani, Begusarai, Sitamarhi and Muzaffarnagar in Bihar, and Moradabad and Bijnor in Uttar Pradesh.
Police arrested the building owner, who had fled to Uttar Pradesh, and his manager, who was hiding at a relative's house in Delhi.
Deputy commissioner of police (north) Monika Bhardwaj said Mohammad Rehan, 43, the owner of the building, and his manager Furkaan, 39, were booked under the Indian Penal Code (IPC) sections 304 (culpable homicide) and 308 (attempt to commit culpable homicide).
Delhi chief minister Arvind Kejriwal, who visited the area in the afternoon, ordered a magisterial inquiry and announced a compensation of Rs 10 lakh for the families of the dead and the injured.
The fire department said this was one of Delhi's worst fire accidents.
On June 13, 1997, a fire that started from a transformer in the basement of Uphaar cinema complex caused 59 deaths.
Two years later, in Old Delhi's Lal Kuan, 57 people died in a chemical warehouse fire.