Forensic probe rules out foul play in car fire deaths in Delhi
On Sunday, Upender (36) took his wife Anjana, the deceased, for an outing. Apart from Anjana and Upendra, their three daughters, Nikki (1) and Mahi (6) and Siddhi (4) were returning from the Kalkaji temple in their Datsun Go car when the CNG-fitted vehicle caught fire, police said.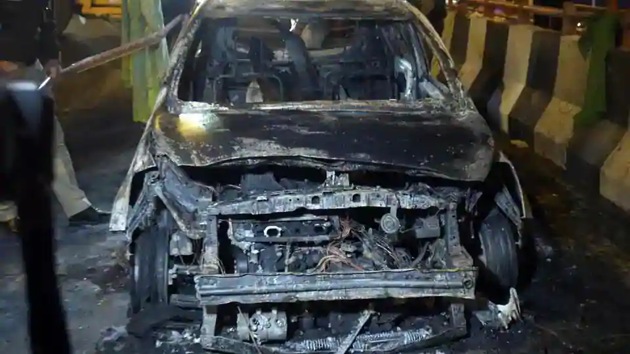 Published on Mar 12, 2019 01:49 AM IST
Hidustan Times, New Delhi | By Karn Pratap Singh
A day after a 35-year-old woman and her two daughters were killed after the car they were travelling in caught fire on Akshardham flyover, police Monday said they have ruled out foul play in the incident.
Deputy commissioner of police (east), Jasmeet Singh, said, "We are not suspecting any foul play in the case. The forensic experts have inspected the burnt car but did not find anything suspicious. Their final examination report is awaited."
An investigator, on the condition of anonymity, said forensic experts' preliminary inquiry revealed that the car caught fire because of a short-circuit. "We have several eyewitnesses who saw the car catching fire while it was moving. They also saw the driver stopping the vehicle and attempting to pull his family members out," the officer said.
The woman's husband, Upendra Mishra, who was driving the car at the time of the incident, is in shock and has been blaming himself for not able to save his wife, Anjana Mishra, and two daughters — Riddhi Mishra,5, and one-and-a-half-year-old Nikki Mishra.
"Everything happened very fast and I lost my loved ones in less than five minutes. I managed to get out and pull my daughter, Siddhi,3, out as soon as I saw smoke coming out of the dashboard," Upendra said.
Soon after the incident, Upendra's in-laws had alleged foul play in the incident. Upendra's cousin Yogesh Mishra, said, "Police are probing the case. If they (in-laws) suspect foul play, they can approach the investigators or senior officers."
Upendra, who works as an evaluation engineer with a private company dealing in purchase and sale of used cars, said by the time he rushed to rescue his wife and the other daughters, the car doors were locked. He said he saw his wife banging the door and struggling to get out.
"I signalled her how to open the lock but she failed to do it. I then broke the left rear door window glass using a tool given by an auto driver. As I tried to pull my wife out by covering my face with my jacket, she fell between the front and rear seats and was burnt. I saw my wife and children burning. Nothing is more painful than seeing your family members dying and finding yourself helpless," he said.
On Sunday, Upendra and his family had gone to Kalkaji temple in the car, which he had taken on lease from a cab aggregator company on Friday after paying Rs 10,000. The family was returning to their home in Rampur Extension in Loni, Ghaziabad.
Close Story