'Every day is a struggle to breath': Some Delhiites bail out as pollution clouds city of dreams
'Severe' air quality in Delhi is driving out its residents. People are prepared to change career plans and alter lifestyle as they think of ways to escape pollution in the Capital by moving elsewhere.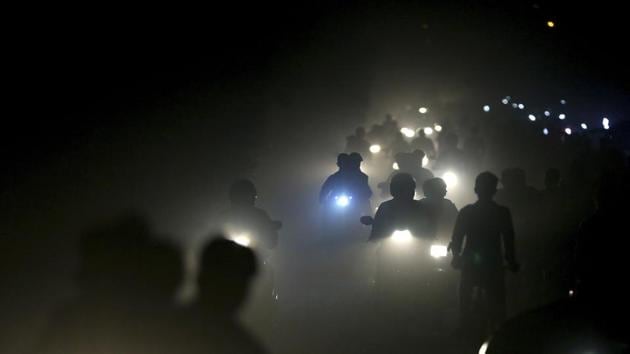 Updated on Nov 16, 2017 12:03 AM IST
New Delhi
November is that time of the year when 54-year-old Manorama and her husband P K Goswami, 64, leave Delhi because of pollution.
They left the city first last year when it was engulfed in smog after Diwali. They did the same this year and are happy to have escaped the Capital's bad air days.
The city's air quality index hovered between 400 and 486 — in the "severe" zone — for seven days last week. Officials said the Capital had come close to breaking the infamous record of 2016 smog, the worst in 17 years.
As Delhi struggles to breathe, residents are looking for alternatives. Some have decided to move out of the city for good, while others are looking at spending the pollution months out of station.
In a Twitter poll conducted by Hindustan Times on Monday, 83% respondents out of 844 who voted said they would leave the city if they had a choice.
"I have breathing problems and used to manage somehow. Every morning is a struggle with bouts of cough, irritated throat and breathing difficulty," said Manorama, who is a homemaker.
She left her Ghaziabad house for Guwahati in November this year along with her husband, who is a retired government official. The couple will come back only in February.
Manorama said it wasn't just the health problems that prompted her to leave city, but also the indifference of government agencies. "Every agency knows the city will face this and yet nobody plans before the onset of winters," she said.
But it's not just retired couples. Young professionals too are leaving the city at the cost of their career.
Arvind Pal Singh closed his seven-year-old advertising agency this year and moved to Chandigarh with his family. "My wife, who has asthma, keeps well now. I was reading about the smog in Delhi while sitting under sunlight in my garden here. I knew I did the right thing," 46-year-old Singh said.
Singh, who works as a freelancer, said choosing between health and career is a difficult call but at some point one has to do the right thing.
"What made the decision easier was that my son got selected to play for the Himachal cricket team. So, I thought it is for the best that I leave and move to Chandigarh. I earn less here but I am happier with the quality of life," he said.
As in the case of Pal, health of children is a prime concern that seems to be driving young parents to consider relocation. Kunal Sharma, a 37-year-old Noida-based lawyer, has just returned to Delhi after dropping his wife and three-year-old daughter at his ancestral home in Pathankot.
"My daughter is so young and we keep her indoors. I don't want her to have a childhood locked up inside the house but I cannot risk letting her go out and getting exposed to pollutants," Sharma said, adding that they are even contemplating staying in different cities for the sake of their child.
Sharma's daughter is currently enrolled at a play school in Khan Market. For now, his wife and daughter will stay in Pathankot and come to Delhi in February.
Similarly, Doel Trivedy, a wildlife filmmaker, moves to Mussoorie with her three-year-old daughter and husband every time pollution peaks. She and her husband left Delhi Mussoorie during Diwali and came back for a few days only to go back again when the pollution levels spiked.
"My daughter has asthma so it is impossible for us to stay in the city when the air quality gets bad. Pollution is not a new problem that Delhi is facing suddenly and yet we have reached here," Trivedy said.
From being a city of the young and ambitious, Delhi is now being seen as the city of sick and spent. Parul Kaul, a marketing manager with an MNC, moved to Delhi a decade ago to study at Delhi University and make a career in brand communication. She is planning to move again, but this time it is out of fear for her health.
"Till last year, I was optimistic that things will change. Even this year, I tried to raise awareness about air pollution on social media. But no one wants to take responsibility for this," she said.
Kaul has been facing fatigue and breathing problems for the last few years. She once wanted to settle in Delhi but now plans to go abroad to study. "For me it is a clear choice — health above everything else. If I am not healthy, how will I focus on my work? I don't mind tweaking my career plans for this," she said.
"I hate to leave Delhi. It is the city which has made me what I am today, but I have to," she said.
But leaving the city –permanently or briefly –is not an option everyone has or event want to opt for. There are many who want to stay put in the city and face the problems.
Kastubh Khare, a 26-year-old entrepreneur, suffers from bronchitis since childhood and rarely steps outside his office-cum-home in Vasant Kunj these days. He has an air purifier in his house and also wears a mask all the time. But Khare refuses to leave the city or even consider the option.
"Leaving the city is an option for the elites. The city gives livelihoods to lakhs and they cannot just leave. We need to find solutions. I am an urban designer and Delhi in fact it is an interesting case study for me where I can research problems specific to urban settings and find solutions," said Khare.
Close Story
Personalise your news feed. Follow trending topics