Jamia students want student elections back, submit memo to VC
Students of Jamia Milia Islamia have formed a joint action committee to raise the demand for students' union elections in the university. Elections to the student body were banned in 2006 and the matter is sub judice.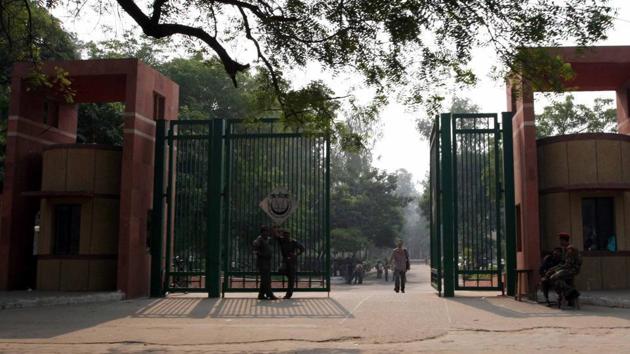 Updated on Oct 06, 2017 02:44 PM IST
A joint action committee of Jamia Milia Islamia students submitted a memorandum to the Vice Chancellor of the university on Thursday, demanding that students' union elections be restored in the university, and elections dates be released by October 10.
The university, also referred to as Jamia, has not had elections since the union was disbanded by the administration on March 31, 2006.
A group of former students moved the Delhi High Court in 2011, asking that the union and union elections be reinstated. Jamia had, however, later said they did not belong to the university. The matter is still sub judice.
Though the demand for an elected students' union has frequently resurfaced, this time representatives from various student groups — including the Congress-backed Nationals Students Union of India (NSUI), left-leaning All India Students Association (AISA), Aam Aadmi Party's CYSS, and Jamia Collective — have organised themselves into a Joint Action Committee.
"Student union and elections are our democratic rights and it should be exercised," said Amber Fatmi, a member of the committee. The committee members said they had gathered 2,500 to 3,000 signatures for the memorandum that calls for elections and asks the administration to release an election schedule by October 10.
"The signatures were collected over past few days, when we had holidays. Which is why the number is not very high," said Talha Rehman, an Islamic studies department student at Jamia.
"We have been talking to students on the ground, and we know many want a students union. The university has many issues such as patriarchal attitudes, discriminatory rules for women, delay in results. Many students are left wondering how long they will have to fight individual cases on their own," Rehman said.
VC Talat Ahmad said he had received the students' memo and was aware of their demands. "I am personally not against elections or students' unions. But I cannot do anything on a sub judice matter. The university is a respondent to the petition," he said.
He said the union had to be disbanded in 2006, after increased violence on campus. "We can't do anything, unless one of three things happen — either the petitioners withdraw their case or the court vacates the case. The third option is that the students become a third party to the case and ask the court to dispose the case as soon as possible," the VC added.
He also said there was no real consensus among the students about the elections, and that he had found that "a section of students" don't want elections to be held on campus.
Close Story