NHAI's road project may cost Gurugram its green lung – the Aravali Park
Published on Oct 20, 2018 11:41 PM IST
A project by the National Highways Authority of India (NHAI) that proposes a road across the Aravali Biodiversity Park in Gurugram could disrupt the areas rich biodiversity.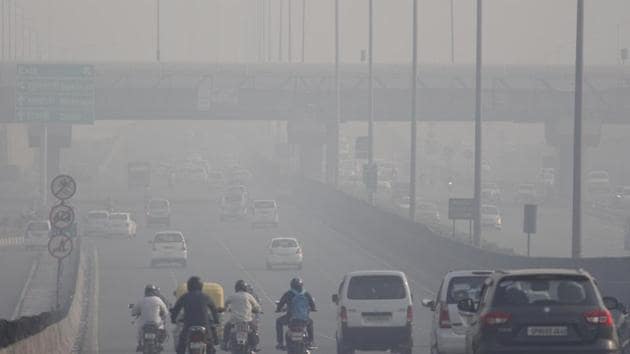 Hindustan Times, New Delhi |
Jayashree Nandi
A road construction project of the National Highways Authority of India (NHAI) is likely to cut across the Aravali Biodiversity Park in Gurugram, home to many species of animals and birds, including migrants and passage migrants. A rare sighting of a Rufous-tailed Scrub Robin was reported from it two months ago.
The park, which used to be a stone quarry before it was restored to a biodiversity-rich urban forest by ecologists, volunteers from Iamgurgaon, a non-government organisation, and the municipal corporation of Gurugram, now runs the risk of being destroyed by the road project.
Vijay Dhasmana, a naturalist who set up a nursery of local plant and shrub species for the park, was informed about the road project when an NHAI survey team came to the park in July.
The purpose of the team's visit was to document the alignment and other technical details of the premises.
Dhasmana recently also came across the details of the proposed project of two link roads — from Ambience Mall to Aya Nagar on Gurgaon-Mehrauli road (NH 236) and another from Vasant Kunj to Ayanagar on Gurgaon-Mehrauli road (NH 236) on NHAI's website. Both the roads are part of a plan to decongest Delhi.
The Aravali Biodiversity Park stretches over 380 acres and is a deemed forest. It has not yet been recognised as a forest by the Haryana government although it meets the criteria of a forest as ordered by the Supreme Court in the TN Godavarman case of 1996.
The judgment said that the term "forest" is to be understood in the dictionary sense and also that any area regarded as a forest in government records, irrespective of ownership, would be considered a forest. The stone quarry site was restored by planting native Aravalli species in the past eight years and is a popular haunt for birders and nature lovers.
"The Aravali Biodiversity Park looks like a forest and has all qualities of a forest so it is a deemed forest and NHAI will have to take forest clearance to build through it. The area is also a 'gair mumkin pahar' (Aravalli foothills) and is covered in the Aravalli notification of 1992 where construction of roads and buildings is not allowed," said Chetan Agarwal, a Gurugram-based ecological analyst who is also associated with Iamgurgaon.
Agarwal cited maps of the road projects; one of them also seems to cut through a linear patch of reserved forests in Delhi.
RP Balwan, former conservator of forests, Gurugram, said: "It's a wrong perception that Aravallis are not forests. The Biodiversity Park is rich in variety, provides ecological services to NCR (National Capital Region) and is also a groundwater recharge site. The Ridge vegetation of the Aravallis is present here and supports a large number of birds and animals. Government should notify it as forest."
A Gurugram Metropolitan Development Authority (GMDA) official said on condition of anonymity that "the Aravali Biodiversity Park land is not with the forest department but with the municipal corporation, so there are no land acquisition issues. But the area is definitely deemed forest as per SC judgment so the NHAI will require forest clearance. The alignment works of the project is complete, tendering will take place now. The project is likely to start in February or March next year."
HT sent a questionnaire to NHAI on the progress of the road project and seeking details of a forest clearance but did not receive a response till going to press. NHAI officials were not reachable for comment on Saturday.
Personalise your news feed. Follow trending topics