Satyendar Jain rejects proposal for special public prosecutors in 'CS assault' case
Updated on Aug 28, 2018 01:01 AM IST
Delhi home minister Satyendar Jain and principal secretary (home) Manoj Parida strongly differ in the government's choice of appointing public prosecutors in Anshu Prakash's alleged assault case.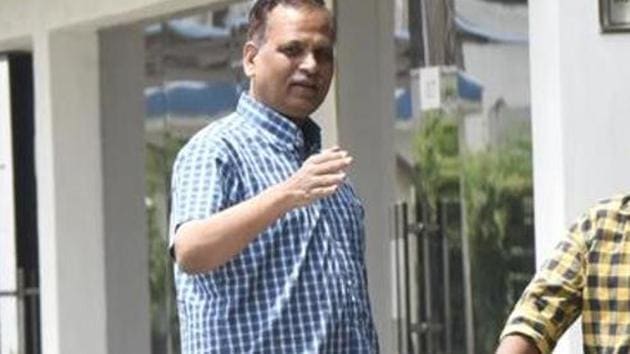 A tussle between Delhi home minister Satyendar Jain and a top bureaucrat who heads the same department is brewing over the past one week with both accusing each other of "bias" in the chief secretary Anshu Prakash assault case.
Jain and principal secretary (home) Manoj Parida strongly differ in the government's choice of appointing public prosecutors in Prakash's case in which Delhi Police charge sheeted chief minister Arvind Kejriwal, deputy CM Manish Sisodia and 11 other Aam Aadmi Party legislators.
The issue emerged after the Delhi Police requested the AAP government to appoint three "special public prosecutors" in the case, which the home department agreed. The department went ahead and prepared an order appointing three special public prosecutors on August 21.
But, when the file was sent to the minister for approval, Jain shot it down, saying "public prosecutors in their cadre are competent to handle this type of cases".
On August 23, Parida wrote on the same file urging Jain to "reconsider" the appointment. He said Prakash's case was a "serious" one as both the CM and deputy CM are the accused. He said regular public prosecutors (PPs) who work under the elected government may find it difficult to handle the matter.
"The minister's refusal to engage special public prosecutors may also be looked at from a coloured angle since the minister works under the CM and bears part of 'collective responsibility'. The most appropriate decision will be to allow appointment of special PPs with the approval of the L-G," read the note written by Parida, which HT has seen.
A day later, the minister wrote back to Parida, declining the department's suggestion a second time. "The entire note is mischievous and full of false allegations. If the minister could be biased because he is working under the CM, similar bias can be alleged against ACS (home) (Manoj Parida), who is working under the chief secretary and taking directions from CS," Jain wrote. The minister added that "it is ridiculous" to say that public prosecutors will act in a "partisan" and "political" manner. "It is unfair to distrust them or impose upon them any outside advocate unnecessarily," he wrote.
When HT asked Parida about the appointment, he said the word of the minister shall prevail. "The minister will have the final say in this matter as it is completely under his jurisdiction. I took forward the request of the Delhi Police giving a viewpoint and if that is not agreeable to the minister, then that is also fine. So, regular PPs will fight the case for the elected government now."
Text messages and phone calls to Jain seeking comments on the matter went unanswered.
Personalise your news feed. Follow trending topics