Latest from satyendar jain
Satyendar Jain is currently in judicial custody but was admitted in Lok Nayak hospital due to ill health. Special judge Geetanjali Goel allowed the withdrawal, even as she granted interim bail to the minister's wife Poonam Jain.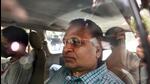 Updated on Aug 07, 2022 01:53 AM IST
Taking cognizance of the charge sheet filed against Jain, his wife and eight others, including the four companies, special judge Geetanjali Goel asked the agency as to how it could connect the companies with the minister.

Updated on Jul 30, 2022 05:27 AM IST
While seeking to shift Satyendar Jain to either of these hospitals, the ED submitted that there is a need for independent evaluation of his health as before his arrest he was holding the portfolio of Delhi's health minister.
Published on Jul 26, 2022 10:59 PM IST
Citing Jain's lawyer, the party said Lokayukta has imposed a fine of
₹
50,000 on the complainant, lawyer Neeraj, for falsely accusing the minister of owning benami property.

Published on Jul 16, 2022 12:14 AM IST
Satyendar Jain was arrested after the ED attached immovable properties worth
₹
4.81 crore, in April, owned by the companies named Akinchan Developers Pvt. Ltd, Indo Metal Impex Pvt Ltd, and others under the Prevention of Money Laundering Act, 2002.

Published on Jul 11, 2022 03:03 PM IST