Traffic jam helps Delhi trader catch robbers who mugged him at ATM
DCP (northeast) Atul Kumar Thakur said Janardan Singh would soon be rewarded and felicitated for his bravery.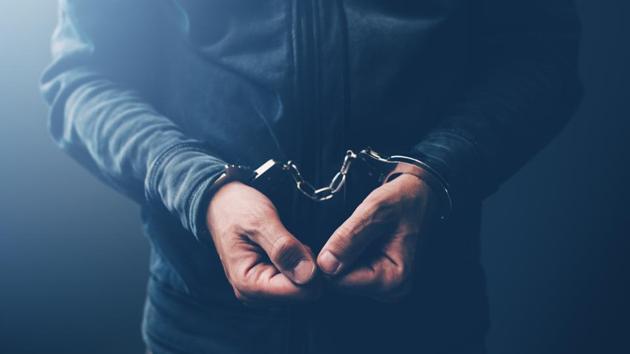 Updated on Aug 12, 2018 08:34 AM IST
Hindustan Times, New Delhi |
Shiv Sunny
As a medicine supplier whose job required him to ride a motorcycle across the national capital, 34-year-old Janardan Singh always cursed Delhi's notorious traffic jams. But on Wednesday, he was thankful for a traffic snarl that prevented two robbers from getting away after robbing his money.
For the two motorcycle-borne robbers, getting caught in a traffic jam was just one among a series of ill fortunes they encountered within five minutes of committing the crime.
It all began at 12:30 pm on Wednesday when Singh was out to pick his daughter from school in Bhajanpura's Yamuna Vihar. On the way, he withdrew ₹6,000 from an ATM.
The moment he stepped out of the ATM booth, a man held him by his collar and tried to snatch the money. However, Singh refused to part with the money. "I am a young, strong man; it was my hard-earned money. I decided to fight back," said Singh.
However, he could not for long as Singh immediately found another man put a knife to his throat. "I continued to grapple with them for a few more seconds until it appeared that the robbers would stab me. My retaliation rattled the robbers," said Singh.
But he wasn't going to give up easily. As the robbers fled on a motorcycle with his cash, Singh gave chase on foot and simultaneously kept screaming to attract attention of passersby on the road.
As luck would have it, the alleged robbers found themselves stuck in a traffic jam near a hospital, just 250 metres from the ATM. "The robbers unsuccessfully tried to squeeze their motorcycle through the jam. The pillion rider kept looking back to see if I was still chasing them," said Singh.
But the moment Singh almost caught up with them, the two suspects abandoned their motorcycle in the jam and ran towards a service lane. Singh finally caught up with them, pinning down both of them.
At that moment, one of the robbers allegedly again pulled out the knife to manage an escape. But Singh continued to latch on to the other as they wrestled on the road.
Singh was tired after the sprint and wrestling and was loosening his grip on the other robber when, at that very moment, two policemen patrolling the neighbourhood walked straight towards them.
"One of the suspects, Raja, was overpowered by the police with the help from the daring victim. The robbed cash and the motorcycle used in the crime were immediately recovered. The absconding suspect has been identified," said Atul Kumar Thakur, deputy commissioner of police (north-east).
The DCP said Singh would soon be rewarded and felicitated for his bravery. Three months ago, the same officer had felicitated 41 members of the general public who had been involved in similar acts of bravery in the neighbourhood.
Close Story