South Delhi seeks to reverse sealing drive in localities including Hauz Khas, Defence Colony, GK
Apart from south Delhi, sealing was also carried out by the east and north corporations, which conducted similar drives.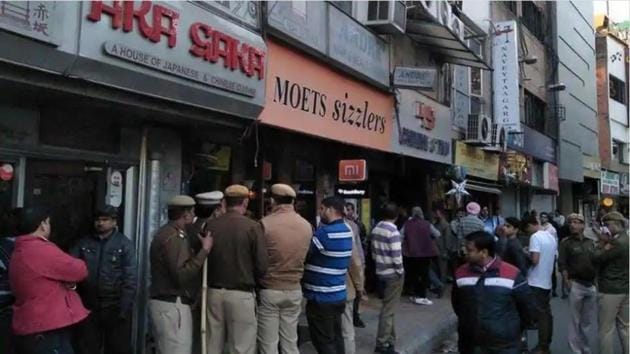 Updated on Aug 24, 2018 08:38 AM IST
The South Delhi Municipal Corporation (SDMC) on Thursday issued detailed guidelines for regularisation of commercial units in local markets in a move aimed at starting the process of de-sealing 921 shops, restaurants and offices in prominent south Delhi localities such as Hauz Khas, Defence Colony, Greater Kailash and Green Park, among others.
Provisions of the new guidelines allow the use of basements, mezzanine, and first, second and third floors for commercial activities -- which was one of the biggest reasons behind the sealing drive against land-use violations that was launched in the national Capital last December.
While traders affected by the sealing drive expressed relief, members of a Supreme Court-appointed monitoring committee, on whose orders the municipal corporations conducted the sealing drive, contented that the guidelines did not mean de-sealing could start immediately. "Nothing can be finalised yet. The matter is still in the apex court," said a member of the committee who asked not to be named.
Puneet Goel, the South Delhi municipal commissioner, however, insisted that the implementation of the new guidelines will facilitate "regularisation of existing buildings, getting sealed properties de-sealed, using basement for commercial purposes and installing lifts in commercial complexes". He added that the guidelines applied only to markets falling in the jurisdiction of SDMC .
Shikha Rai, chairperson of SDMC's standing committee, also contradicted the monitoring committee's contention, saying that the guidelines will not require an approval from any authority or body. "Our officials will start accepting the applications for regularisation from Monday and arrange for visits at these sites to ensure all norms are fulfilled. After completing the process, files will be moved to monitoring committee for de-sealing."
"To give relief to shopkeepers, the ministry of housing and urban affairs had notified amendments in the Delhi Master Plan 2021 on June 21. Following the notification, civic agencies were asked to come out with the new guidelines for regularisation and sanction of affected buildings in LSCs (local shopping complexes)," Rai said at a press conference at the Civic Centre.
"Now, we have come out with a policy that allows floor area ratio of 350 in LSCs. That means shop-owners can cover 75% area on ground, first, second and third floor and 50% in basement. The new guidelines also permit 100% coverage on ground floor provided the overall FAR will not exceed 350 and front facade is not changed," she added.
Apart from south Delhi, sealing was also carried out by the east and north corporations, which conducted similar drives. When contacted, both corporations said on Thursday that they were yet to take a decision on formulation of guidelines for regularisation of commercial units.
Questioning SDMC's move, a second member of the Supreme Court-appointed monitoring committee said: "The matter of amendments in Master Plans is being scrutinised by the Supreme Court so how can any civic agency grant relief to the shopkeepers? Also, the civic agency has not taken consent from us before issuing such circulars."
Traders, however, said they were looking forward to the de-sealing exercise. "We are happy with the move considering 100 units were sealed for alleged misuse in our market. Sealing had forced some shopkeepers to move to other places for running their business activities," said Jagdish Gupta, a member of Defence Colony Market Association said.
"We were waiting to hear this news from corporation for long time. Since the Centre has already notified the amendments I don't think its implementation will be an issue," said Gupta, who shifted to under the Defence Colony flyover after the basement he occupied in the main community market was sealed in January.
Sealing had become a huge political issue, with leaders from all the three leading parties in the city -- the ruling Aam Aadmi Party, the Congress and the Bharatiya Janata Party coming out in support of traders, who are a huge vote bank in Delhi.
The shopkeepers will be able to avail of the benefit only after submitting the use conversion charges, additional FAR charges, parking charges as per the notification, said an SDMC official.
The structure for use of conversion charges are ₹22,274 per square meter of built-up area for markets in areas with the highest circle rates, and gradually reduce in proportion with a reduction in circle rates.
The new guidelines include the use of mezzanine floors if the construction plan was sanction by the DDA or MCD earlier. In cases where the basement is being used for parking, it will not be included in FAR. But no activity will be permitted on terraces or roofs, except as permitted in the unified building bylaws 2016.
Close Story