They expected to rob
₹

25-30 lakh, ended up with just

₹

5 and in jail

Updated on Aug 10, 2018 06:14 AM IST
Five robbers who waylaid a businessman in east Delhi hoping to earn lakhs got the shock of their lives when they found that the bag they snatched had only a five-rupee coin. While two of the robbers have been arrested, the other three have been identified.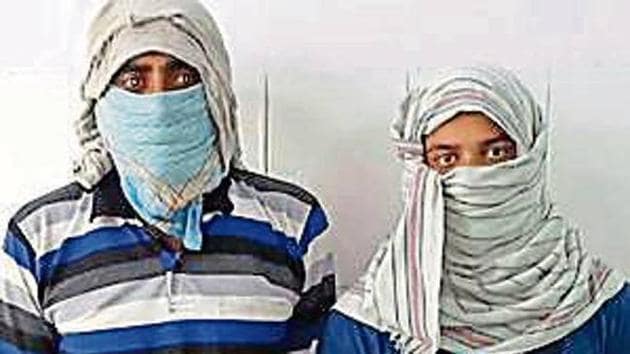 Hindustan Times, New Delhi |
Shiv Sunny
A gang of five robbers who targeted a businessman in east Delhi a few weeks ago had hoped to get richer by at least ₹5 lakh each. But when they checked a bag they had snatched, each had only one rupee as share.
Their ill luck did not end with that. On Wednesday, two of them were arrested and the remaining three were identified by the special staff of Shahdara district police. Given the stringent laws under which they have been booked, they could be punished with rigorous imprisonment for 10 years if convicted.
The businessman is a 43-year-old resident of Shahdara who runs a factory that makes foam and jacket material. The alleged mastermind, 35-year-old Ifthekaar Khalid, runs a jacket-manufacturing unit in nearby Maujpur and was a regular customer of the businessman.
"Khalid was aware that businessmen in these neighbourhoods usually return home with lakhs of rupees in cash every day. He would observe large figures in the transaction slips of this particular businessman and planned to rob him," said Meghana Yadav, deputy commissioner of police (Shahdara).
So, Khalid allegedly roped in four of his friends. They conducted a recce and planned to intercept the businessman on his way home. On May 26 when Khalid observed the businessman noting large transactions, they decided to go for the kill.
"He expected the businessman to carry home ₹25-30 lakh in cash that evening. A thick bag carried by the businessman further raised his hopes of a big loot," said the officer.
Little did they know that as a matter of practice, the businessman never carried heavy cash to home. "My bag appeared thick because of clothes and a tiffin box," said the businessman, requesting anonymity fearing he may be targeted again.
The victim was nearly home when three motorcycle-borne robbers intercepted his scooter at 9.35pm. "They threw chilli powder in my eyes and fired in the air before snatching my scooter. My bag had a transaction slip and I requested them to return it to me, but they refused. They robbed my scooter too hoping that there would be cash in its storage unit," said the businessman.
But when the robbers opened the bag, they were in for a shock. "All they found inside was a five rupee coin," said the DCP.
As it turned out, the robbers did not check the pockets of the businessman who was carrying over ₹10,000 in cash. Since the gang had no past experience in stealing vehicles, they weren't able to sell the scooter either. The scooter has been recovered.
The robbery was followed by registration of a robbery case at the Anand Vihar police station and the special staff was tasked with cracking the case.
Since the team had earlier cracked other similar robberies, they followed their standard procedure of checking CCTV footage on the route taken by the victim and identifying if he was being followed earlier. That paid off.