'Water will be cold, keep bonfire ready': Last words of man who drowned in Delhi's Jahangirpuri sewer
Hindustan Times, New Delhi |
Shiv Sunny
Oct 22, 2018 12:06 PM IST
Doman Ray drowned while working inside a tank of a Delhi Jal Board (DJB) sewage pumping station in north Delhi's Jahangirpuri on Sunday.
Doman Ray, the 32-year-old man who died while working in a sewer tank in Jahangirpuri, was a man of 'few words and fewer desires'. Minutes before he entered the Jahangirpuri sewer tank for the last time on Sunday morning, all he had asked his colleagues was to keep a bonfire ready.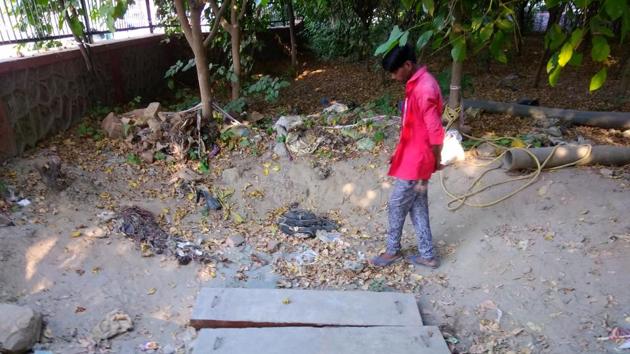 "It was a cold October morning. Ray told me that he was going to enter the sewer tank which would have chilled water and it would get colder for him when he came out. He requested me to gather some firewood and light a bonfire to get him warm," said his colleague Vipin Mandal.
But before Mandal could even leave to collect firewood, Ray drowned inside the sewer tank. A valve he had opened probably created a vacuum, leaving him trapped inside.
A native of Baida village in Bihar's Katihar district, Mandal had been employed as a labourer by a private firm that had been hired by the Delhi Jal Board for repairing sewer lines in north Delhi's Jahangirpuri. His salary slip for July showed he was paid around Rs 10,800 every month for the job.
"He had lost his father two decades ago. His mother had passed away last year. He wanted to bring his wife and one-year-old daughter to live with him in Delhi, but couldn't as his finances didn't allow it," said Ray's cousin, Sunil Mandal, who too works as a labourer for the same firm in west Delhi's Janakpuri.
"He did everything he could to save money for his wife and daughter. He lived in west Delhi's Keshopur and shared a room with five other labourers. The six of them divided the monthly rent of Rs 3,000 among themselves," said Sunil.
"He had studied only up to Class 5 and had accepted this dirty job as his fate," said Sunil. Ray's older brother Dinesh, a 'chowkidaar' in Bihar, is scheduled to arrive in Delhi on Monday to collect his body.
Ray hails from a village that has sent several labourers to Delhi. "I know at least a dozen men from my village who work as sewer cleaners in Delhi. We have no education and this is the only work we are able to find here," claimed Sunil.
Ray's colleagues said they found the job of opening and closing the valve in the sewer risky. "There is the constant danger of our oxygen masks breaking or coming off inside the sewer that is riddled with muck and stones," said Vipin Mandal.