Yamuna littered as idols, debris remain uncleared
Hindustan Times, New Delhi |
HT Correspondent
Sep 25, 2018 09:39 AM IST
The National Green Tribunal (NGT) on Monday directed all states to strictly comply with the guidelines laid down by the Central Pollution Control Board on idol immersions
A day after idols were immersed in the Yamuna, the floodplains were littered with all kinds of debris, threatening the fragile ecosystem of the riverbed and polluting the river, for want of a mechanism to clean the floodplains after rituals.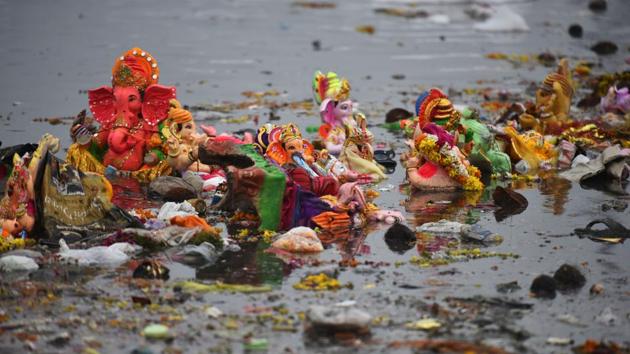 The National Green Tribunal (NGT) on Monday directed all states to strictly comply with the guidelines laid down by the Central Pollution Control Board on idol immersions.
The authorities, however, said they had made elaborate arrangements so that the floodplains are not littered and idols do not flow down the river.
Officials were deployed near the ghats to ensure that the larger idols were immersed only at designated spots, however, the smaller ones were immersed outside the barricaded enclosures, thereby polluting the river and its floodplains.
"Bamboo enclosures were constructed at designated ghats on the edge of the river so that idols could be immersed there and they are not washed away. Enclosures were also set up on the banks so that leftover flowers and other material could be dumped there. They were supposed to be lifted and brought back to the banks from where the civic bodies could collect them for disposal," a senior official of the Delhi government's irrigation and flood control department said.
But not everything went according to plans.
Several smaller idols and puja leftovers, including plastic, were immersed in the river outside the barricades and the floodplains were littered with flowers and other non-biodegradable garbage.
"The monitoring committee set up by the NGT had issued directions to all agencies to ensure that guidelines prepared by the CPCB and NGT are complied with. Despite that, the directions are not being followed. It is very unfortunate. The agencies concerned should take immediate steps to clean the floodplains," Manoj Misra convener of Yamuna Jiye Abhiyan, said.
The NGT, in 2015, had banned the use of Plaster of Paris and paints with high levels of lead in idols as they are known to damage the soil and water in waterbodies and rivers.
The CPCB guidelines suggest that only natural material such as clay should be used to make idols and only non-toxic and water soluble paints should be used to paint them.
The guidelines also say materials such as flowers, clothes and decorating items made of plastic and paper should be removed before immersion.
"Unless these idols and garbage are removed, they would have both a long-term and short-term impact on the river water and the floodplains. In the short-term, the toxic paints will pollute the river water further and in the long-term, these idols will ultimately add to the silt, thereby reducing the floodplain's recharging capacity," CR Babu, ecologist, said.