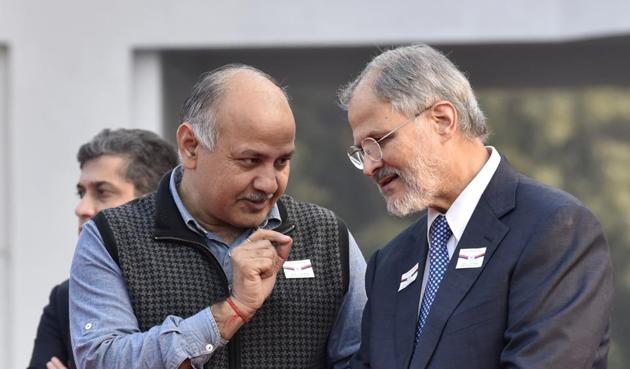 BJP gives a guarded reaction to Jung's resignation
BJP spokesperson RP Singh said that the news of Jung's resignation has come as a shock, but the party wishes him well for his future plans.
UPDATED ON DEC 23, 2016 01:52 AM IST
Lieutenant Governor Najeeb Jung's resignation on Thursday garnered a guarded reaction from the Bharatiya Janata Party (BJP), which called the resignation a 'personal decision'.
Bharatiya Janata Party's (BJP) Delhi chief, Manoj Tiwari, said, "We do not want to give any political tinge to this. He has served the people of Delhi very well and he has been a firm believer of the constitution."
BJP spokesperson RP Singh said that the news of Jung's resignation has come as a shock, but the party wishes him well for his future plans.
"He (Jung) was a good administrator and was performing by the rulebook, which was needed in a place like Delhi where the chief minister was not following the rules. I do not know what was in his mind but if he has decided to continue his career in academics then he will shine in it," Singh told HT.
Speaking on the possibility of Jung being bogged down under the pressures of the political slugfest with the Aam Aadmi Party (AAP) led Delhi government, Singh said, "He did not seem like a man who would succumb under any kind of pressure. But no one knows. Every person has a breaking point."
He said, "inki (AAP) jung Jung se nahi thi, inki jung toh kanoon se thi (AAP's fight was not against Jung, it was against law)," he continued, "Jung as the L-G was only following the law."
Read: Jung resigns as Delhi L-G, Kejriwal calls it a 'surprise'
BJP and AAP have been locking horns on several issues and with the upcoming municipal elections next year, the problems have been escalated.
Sources from the party said that soon after the news of L-G's resignation came out on Thursday, Tiwari met the home minister to discuss the situation of Delhi. However, they refused to reveal further details saying it was a pre-decided. It was apparently Tiwari's first meeting with the minister after taking charge of the party's Delhi wing.
Sources said that the move had surprised even the central party leadership, which was not aware of Jung's decision till the last moment. Though Jung was not pleased with the frequent tussles with the Delhi government, the Shunglu panel report and the Delhi High Court judgement had clearly established his authority in the administrative matters of the capital.
"He has exercised utmost restraint in his behaviour and words despite grave provocation from certain people in power. Despite everything, his heart and tongue was never bitter against his critics," said leader of opposition, Vijender Gupta, expressing his shock.
Gupta also said that Delhi's chief minister, Arvind Kejriwal did not allow him to work smoothly and created hurdles. He said that Kejriwal must apologise to the people of Delhi for his deeds.
Sources said that Jung was supposed to go on a week-long holiday this month, but there was no indication that he might leave. Six months ago his replacement was discussed but that was stalled and no discussion on this topic was initiated after that.
Close