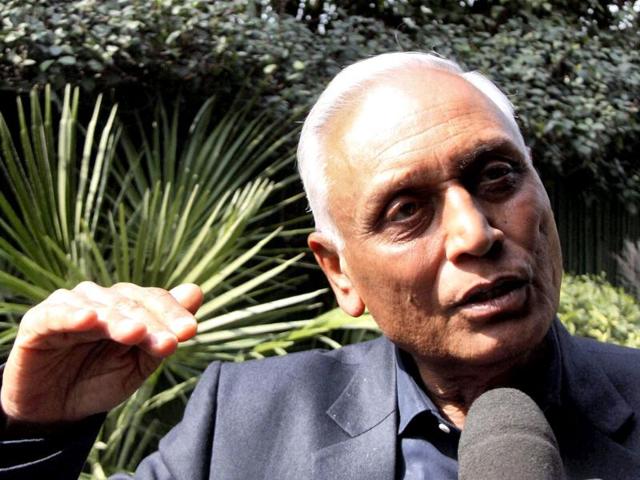 Choppergate: CBI enquiry names ex-IAF chief Tyagi
Naming former air chief SP Tyagi among 15 suspects, the CBI on Monday formally launched a probe into the Rs. 3,760-crore VVIP helicopter deal. HT reports.
Hindustan Times | By HT Correspondents
, New Delhi
UPDATED ON FEB 26, 2013 07:18 AM IST
Naming former air chief SP Tyagi among 15 suspects, the CBI on Monday formally launched a probe into the Rs. 3,760-crore VVIP helicopter deal as the defence minister is learnt to have asked officials to complete the investigation in a time-bound manner — well ahead of the 2014 general elections.


The agency also named Tyagi's three cousins, three alleged middlemen and four companies among others in the probe into allegations of kickbacks in securing the 12 luxury chopper deal with England-based AgustaWestland, a subsidiary of Italian defence giant Finmeccanica.
The preliminary enquiry, which has drawn on the documents received from Italian authorities, is the first formal step towards probing charges of bribery. The agency can now call in all the suspects, available in India, for questioning. A case will be registered once it has sufficient evidence.
Defence minister AK Antony is believed to have directed the officials to punish the guilty, if any, in a time-bound manner, but ahead of the Lok Sabha polls.
The UPA, which has battled allegations of corruption for better part of its second stint, doesn't want the Choppergate to hound it in the next elections. Also, it is important for the government to be seen as acting tough against corruption.
Some middlemen influenced the deal in favour of Agusta-Westland and Finmeccanica paid commission worth several millions of euros to the middlemen, the CBI alleged. The preliminary enquiry was registered hours after an agency team returned from Italy with some documents.
From their share of commission, middlemen Carlo Gerosa and Guido Haschke paid huge sums of money to several Indian nationals, the agency alleged. The payments were routed through Tunisia and Mauritius in the garb of engineering contracts with two India-based companies -- IDS Infotech and Aeromatrix. Haschke and Gerosa are directors in Aeromatrix and Praveen Bakshi is the CEO.
The kickbacks paid to Indians have been pegged at Rs. 362 crore.
Tyagi is the second former services chief to face a CBI probe. Former naval chief admiral Sushil Kumar was named in a case involving alleged kickbacks in the purchase of Barak missiles in early 2000. The probe is pending.
Middleman Christian Michel, former Finmeccanica chairman Giuseppe Orsi and former AgustaWestland CEO Bruno Spagnolini and advocate Gautam Khaitan, too, have been named by the CBI.
In its reply to the defence ministry's show-cause notice, AgustaWestland not only questioned the evidence but also said it expected "timely payments" for the remaining deliveries. So far, only three choppers have been handed over to India. All the suspects have denied the bribery charge.
Close