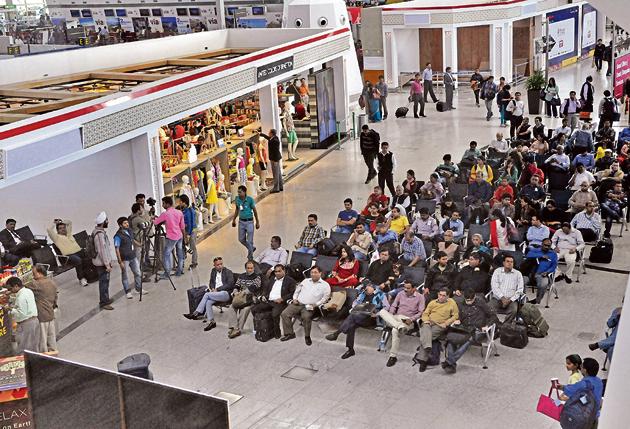 Delhi airport is India's preferred transfer hub with 11.1 million transit passengers
According to airport officials, a transfer passenger is someone, who is not coming out of Delhi airport and is just taking a connecting flight from there.
UPDATED ON MAY 04, 2017 05:01 PM IST
New Delhi
An increase in number of flyers, who are not bound for Delhi, have helped Indira Gandhi International (IGI) Airport turn into a hub for transit passengers.
According to airport officials, a transfer passenger is someone, who is not coming out of Delhi airport and is just taking a connecting flight from there.
Of the 55.5 million passengers that Delhi airport handled in 2016, almost 20% — that is 11.1 million — were in transit. Six years ago in 2010, the transit traffic in Delhi was merely around 2.3% of all traffic.
In fact, in the past four years alone, the number has doubled, with the airport operator having to deploy extra machines and staff to cater to the additional rush.
Due to lack of facilities, airlines were initially hesitant in using Delhi airport as an interchange point. But in recent years, the demand has increased so much that the Delhi International Airport Limited (DIAL) has had to expand the transfer area of Terminal 3.
According to the airport operator, among international destinations, passengers coming from or going to Kathmandu prefer Delhi as a transit point while in the domestic sector, passengers from Lucknow come to Delhi first before going to their destination within the country.
"The increase in passengers, along with the addition of new routes in domestic and international sectors by major airlines over the past five years, has made Delhi airport India's most preferred hub for interchange. We have built this airport keeping in mind future requirements and changing composition from Origin/Destination (O&D) passengers to transfer passengers. We have also integrated domestic and international operations. Today, a minimum connect time is required for airlines if they are using Delhi airport as a hub," said I Prabhakara Rao, CEO-DIAL.
In 2009, when T3 wasn't operational, Delhi's Indira Gandhi International Airport used to handle only 200 transit passengers. The numbers increased significantly in the later years and Delhi airport is now handling over 30,000 transit passengers every day. Though, there is no immediate financial benefit for the airport, in the long run, it helps attract more airlines and increase the use of retail area of the airport.
"We have dedicated transfer facilities – in-terminal transfer hotel, snooze pods, nap and shower facilities and dedicated transfer areas with seating and food and beverages facilities. Besides, there have been technological advancements at the airport. Air India, the primary base carrier, has set up an integrated operations control centre and hub control centre at the airport. Execution of the proposed Master Plan will also enhance the facilities for airlines to grow at a faster pace," Rao said.
With growing numbers, comes the challenge of reducing the waiting time as some airlines have started complaining about congestion in the transfer area. As a result, DIAL had to increase the number of X-ray machines.
Unlike airports abroad, where transit passengers don't need to go through the security drill again, in Delhi a passenger has to is subjected to security checks for a second time before being allowed to board his/her flight.
Close