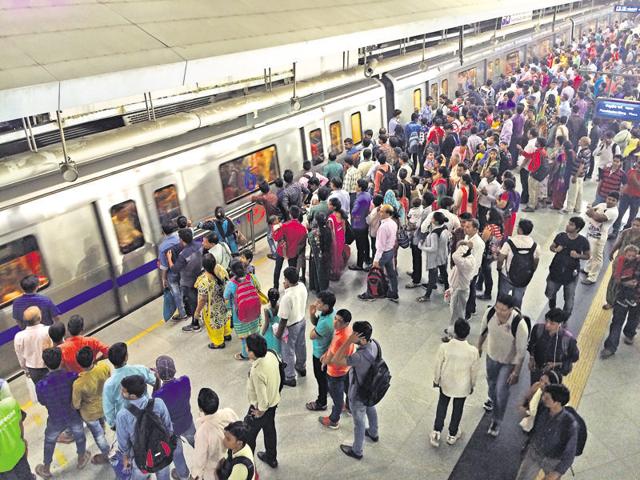 Delhi Metro premises as polluted as open spaces, say experts
Air-conditioned cars and rooms sprayed with room-fresheners, in some cases, are more polluted than open spaces, said environmental and respiratory experts
UPDATED ON OCT 20, 2016 11:20 PM IST
If you think you can avoid the high levels of pollution outside by riding the Metro, you may be mistaken.
Environmental and respiratory experts at the Air-O2-Thon, an international summit to discuss the harmful effects of air pollution, said pollutants enter underground Metro stations through air conditioning ducts and get stuck to the clothes and shoes of passengers.
Air-conditioned cars and rooms sprayed with room-fresheners, in some cases, are more polluted than open spaces, they said.
A detailed study proving the high-pollution levels inside the closed spaces was conducted and will be released in four months, said IIT-Delhi professor Mukesh Khare, the event's keynote speaker.
"Premises of Metro stations in Delhi have high concentration of PM 2.5. In some places, the levels have been recorded over 600 micrograms per cubic metre. The levels of PM 10 also remain high," Khare said.
PM is particulate matter with diameter less than 2.5 and 10 micrometres. Permissible limits of PM2.5 and PM10 levels are 60 and 100 micrograms per cubic metre.
Read more: Environmental and respiratory experts
Though Delhi Metro's air conditioning system is equipped with in-built provisions to filter pollutants, finer particles manage to enter and build up because of the number of people inside the trains and stations.
The levels of such particles depend on the pollution levels outside.
The focus has largely been on outdoor pollution, while pollution also affects the indoors, said Centre for Occupational and Environmental Health director, TK Joshi.
"People often spray room fresheners, oblivious that it contains methyl alcohol which is extremely toxic. Practically every air freshener brand uses that. They should rather be called air polluters. People have actually turned blind over prolonged exposure to it," Joshi said.
Dr AB Akolkar, member secretary, Central Pollution Control Board (CPCB) was the chief guest of the discussion.
Close