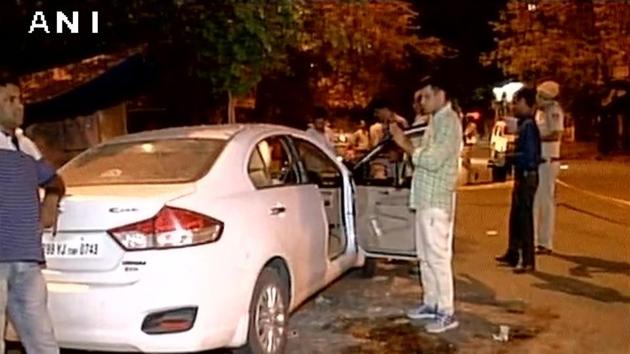 'Criminal', cop among three gunned down in Paschim Vihar market
Delhi Police assistant sub inspector was seated in a car with an alleged gangster for his security. He died before reaching the hospital. A constable, who was with them, is in a critical condition.
Hindustan Times, New Delhi | By Shiv Sunny
, New Delhi
UPDATED ON MAY 02, 2017 12:24 PM IST
Three men, including an on-duty policeman, was gunned down in a daring attack in outer Delhi's Paschim Vihar late on Sunday night.
The attack comes a day after an undertrial was gunned down outside Rohini court.
Police said that the assailants used different weapons to fire more than 40 rounds at their targets, leaving the three men dead at the spot. The Maruti Ciaz car, in which the victims were travelling, was later found at the spot with more than 14 bullet holes. Several bullet marks were also found on shops and shutters around the murder spot.
Investigators said the prime target of the attack appared to be Bhupender alias Monu, a financer, who was known to have a 'bad character' as he had several criminal cases lodged against him.
An assistant sub-inspector, Vijay Kumar, who had been assigned as Monu's personal security officer, and Monu's friend Arun were the others killed in the incident. A police constable, Kuldeep, who was also travelling in the car, escaped with bullet injuries to his hand.
MN Tiwari, DCP (outer), said multiple teams had been formed to identify and nab the killers, after a case was registered at Mianwali police station. By late Monday evening, the case had been transferred to the special cell. Police said several suspects had been detained for questioning.
Among other angles being probed, police are trying to determine if Monu's killing was an 'honour killing or if gang rivalry and personal enmity over property was involved.
Police said Monu had married his friend Sonu's cousin, Rajrani, in 2006, much to the displeasure of her family.
Sonu had allegedly made two attempts on the couple's lives after the marriage, leading to a court awarding police protection to Monu and his family.
Around 11 pm on Sunday, Monu, his friends Arun and Yogesh, and the two personal security officer, assistant sub-inspector Vijay Kumar and constable Kuldeep, visited National Market in Paschim Vihar.
The incident took place when Monu was sitting in the front seat of the car, with the two policemen guarding him sitting in the back seat.
Yogesh and Arun had allegedly stepped out of the market to buy snacks.
According to eyewitnesses, three men on a motorcycle approached the car and first fired at Arun and Yogesh who were standing near the vehicle, hitting the former.
"On hearing gunshots, the two policemen opened the car door and tried to rush out. However, assistant sub-inspector Vijay was shot as he was getting out. Constable Kuldeep managed to escape," said the DCP.
The men then opened fired at Monu, killing him on the spot, before escaping.
Though eyewitnesses said the three men had come on one bike, police said two motorcycles were involved. Footage from CCTV cameras in the market is being scanned for clues.
Close