Stalker stabs 22-year-old Delhi woman over 20 times on busy street
Sep 20, 2016 09:14 PM IST
The entire incident was caught on a CCTV camera. The recording shows the schoolteacher, identified only as Karuna, walking on a busy road as the assailant, Surender Singh, accosts her from behind.
A 22-year-old schoolteacher died after a man, whose marriage proposal she rejected, stabbed her more than 20 times on a busy road in north Delhi's Burari on Tuesday morning, the latest in a string of stalker-related crimes in the city.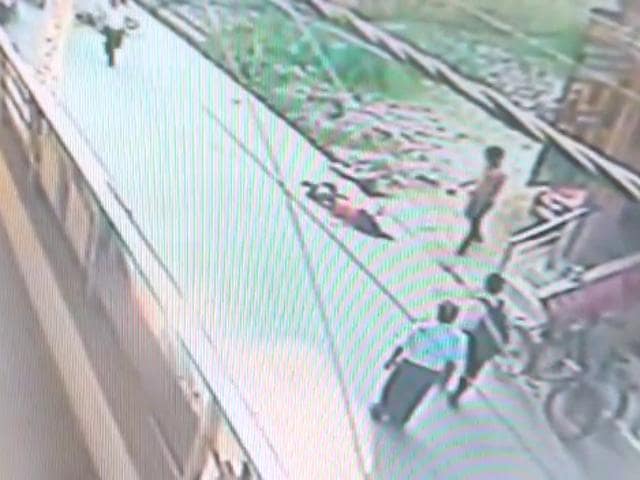 A recording of the incident captured on closed-circuit television camera showed the woman, identified as Karuna by the police, walking on the side of a road when the assailant, Surender Singh, approaches and stabs her.
As she falls to the ground and tries to get away from him, Singh is seen kicking and stabbing her multiple times and many people walking by with a few attempting to intervene but failing.
Police said Singh claimed to be in love with Karuna for more than a year and had given marriage proposals several times, but was turned down. The rejections enraged Singh, who began to stalk and even threatened to kill her.
A few months ago, Karuna approached local police after Singh started harassing her by repeatedly calling her on the phone, sources said. She also informed her parents and brother about the harassment.
Police said both Karuna and Singh were called to the police station, and advised to "compromise" as her family members did not want to file a case. Singh reportedly promised to mend his ways.
Read: Fatal obsession: Why people turn into stalkers and how to recognise the signs
On Tuesday, he followed Karuna and stopped her on her way to school. "Locals at the spot managed to catch Singh, who was trying to flee. They thrashed him and called the police. He was then handed over to us," an investigator said.
"He has been arrested and a case of murder has been registered against him."
The sensational case came just a day after a 28-year-old woman in southwest Delhi was stabbed and killed by a man who claimed to be in love with her. Experts often dub Delhi as India's "stalking capital" because the largest number of cases of stalking is registered in the city.
Data from the National Crime Records Bureau says 1,124 cases of stalking were reported last year, almost a fifth of all such incidents across India.
Many analysts say stalking cases are difficult to report because complaints are usually not taken seriously unless the perpetrator resorts to assault or murder. In many cases, the victims either don't take the threat seriously or are too embarrassed to mention it to friends and family, let alone the police.
Stalker-led abductions and deaths are rare, but stalking — defined as wilful, malicious and repeated unwanted attention, harassing, violating or threatening the victim — can end in other forms of violence, such as vicious personal attacks on social media, wrecking of property and, in some cases, molestation and assault.
"Exciting news! Hindustan Times is now on WhatsApp Channels
Subscribe today by clicking the link and stay updated with the latest news!"
Click here!