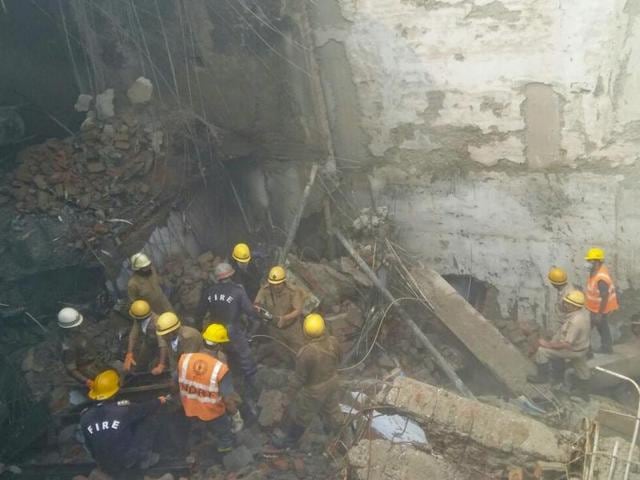 Delhi: 4 injured, 5 trapped after fire breaks out in plastic factory in Narela
A fire broke out at a plastic factory on Wednesday night in outer Delhi's Narela industrial area after which the building collapsed, injuring four people.
UPDATED ON SEP 29, 2016 12:40 PM IST
Four people were injured in a fire that broke out at a plastic factory on Wednesday evening in outer Delhi's Narela industrial area. Five others are missing in the debris of the three-storey building that collapsed in the fire.
The fire started at 4:40 pm , reportedly from a short circuit. Twenty fire tenders were rushed to the spot, but needed 20 more to contain the spreading blaze. A quick reaction team, four police control vans and two ambulances of the centralised accident and trauma services were also dispatched. The fire was finally doused around 8:10 am on Thursday. However, rescue operations continued into the afternoon.
"Only the front portion of the building is intact, while the rest of it has collapsed. The entry into the building has been blocked as the debris has covered the entrance. It is becoming difficult for the firefighters to enter the premises as the walls of the building have collapsed, locking them out. It is humanly impossible to lift them and make way. We have sought help from the NDRF to remove the mortar," a senior fire official said.
"The firefighters are looking for alternate routes to get inside the building," he added.
More than 150 firefighters have been on duty since Wednesday night and the cooling operation is still on. A team of National Disaster Response Force (NDRF) has also been roped in.
Speaking to Hindustan Times, a labourer who contacted police, said, "It was a short circuit that led to the fire. I was working inside when I saw sparks. I alerted everyone asking them to run out. The fire spread within minutes. There was smoke all over. I rushed out and immediately made a PCR call. After a few minutes, I could hear blasts from inside."
Delhi health minister Satyendar Jain reached the spot in the morning. Explaining the situation to reporters, he said rescue teams were trying to access the building through the adjacent building. "Hopefully, the persons trapped inside will soon be rescued," he added.
The injured -- Anup, Naresh Kumar, Tejpal and Jaiwal -- were taken to a hospital. While Anuj sustained 30% burn wounds, others had minor injuries and were discharged after treatment.
.
Close