Govt gives free medicine, sales down at nearby private pharmacies
May 06, 2016 05:04 PM IST
Sales at pharmacies near Delhi govt hospitals have dropped by 50% since February as medicines are available within the hospitals
Pharmacy stores near Delhi government hospitals have seen a 50% dip in their sales since February as almost all medicines prescribed by the doctors are present in the hospital dispensary, according to store owners.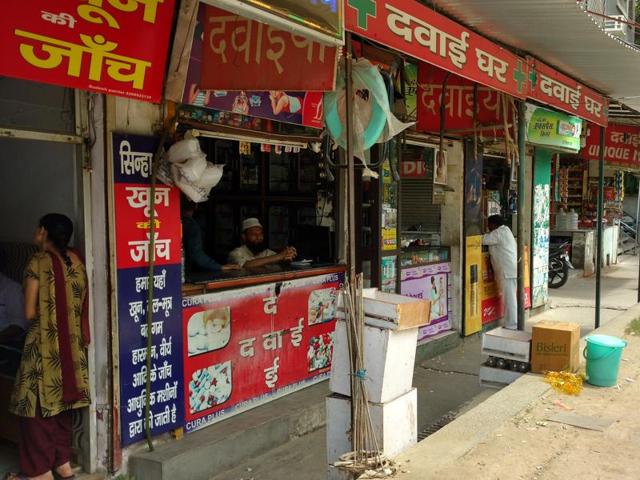 At the beginning of the year, chief minister Arvind Kejriwal had promised to make available all medicines free of cost across Delhi government hospitals.
"For the first one or two weeks, the patients still came to our store. But, after that we saw a huge fall in the numbers. The situation is so bad that we just sit around waiting for customers nowadays," said Ratnesh Yadav, pharmacist at Curaplus medical store outside Dr Hedgewar Arogya Sansthan in East Delhi's Karkardooma area.
On an average, Yadav's shop has been losing out on business of at least R 11,000 -12,000 a day since February.
Imran Ahmad, who runs the Relicare pharmacy in the same area, said that he has seen a drop of 60 – 70% despite his shop being situated right outside the hospital gate. "I am not even able to make enough to pay the R 60,000 rent for this place. We end up selling only cosmetics nowadays. Only a few patients who do not want to stand in queues come here," he said.
The situation is the same with the pharmacists outside Lok Nayak and Govind Ballabh Pant hospital. "We used to do business worth R 1.5 – 1.8 lakh in a day easily. Now, we make only about R 80,000," said Santosh Tiwari, owner of Super Sales Network shop. He said that he will have to lay off some of his employees as the situation was not likely to change. Patients come to his shop ocassionally for few medicines that are not available in the hospital.
"Also, because the MRI and other diagnostic tests have become free, nobody buys contrast material needed for these tests from us," he said.
The hospital pharmacists agree that almost all medicines are available at the hospital store.
"Sometimes a few combinations or a particular dosage of the medicine is not available, but, we give the patients alternate medicine," said a pharmacist posted at a Delhi government hospital.
In fact, the helpline number launched by the government receives only about 3 – 4 complaints a day. "We diligently follow-up on the complaints, most of it turns out to be lack of co-ordination between stores and pharmacies, where the medicine stocks are available in the hospital, but not at the counter. We have also been receiving calls from the centre-run hospitals," said a government official.
However, according to doctors at some hospitals, this is because they have been given instruction to prescribe medicines only from the essential drugs list. "Sometimes people need alternate medicines, which is not on the list. However, we cannot prescribe it. All the prescriptions have to be signed by the doctors and action can be initiated against us," said a doctor from Baba Saheb Ambedkar hospital.