In AIIMS for a year, Rs 1 lakh for ventilator will send boy from Bihar home
Jan 24, 2017 03:41 PM IST
Fourteen-year-old Rohit Kumar should have been home in Bihar's Siwan district a year ago but he can't leave AIIMS because his family can't afford a portable ventilator that costs around Rs 1 lakh
Fourteen-year-old Rohit Kumar should have been home in Bihar's Siwan district a year ago but he can't leave AIIMS because his family can't afford a portable ventilator that costs around Rs 1 lakh.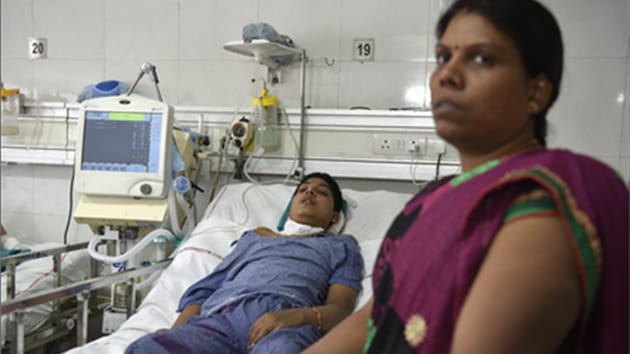 The teenager has been occupying bed 19 in the neurosurgery-3 ward at the All India Institute of Medical Sciences for more than a year though he should have been discharged by January 1, 2016 after a spine surgery.
Two years ago, he had a fall and damaged his spinal cord. The surgery saved his life but Kumar is paralysed waist down and sometimes need ventilator support to breathe, especially when he is sleeping.
"We are farmers and earn Rs 6-7,000 in a month, we can't afford a machine worth a lakh," says Munni Devi, Kumar's mother. She has rented a room near Badarpur on the Delhi-Haryana border to be with her son.
Kumar's brain function is normal though he speaks haltingly. He is not on active treatment but as he can't move his arms or legs, he needs someone to look after him and a portable ventilator.
"Ideally, he should be moved out with a portable ventilator. There are three more patients in his ward who can be discharged, but we can't discharge them because they can't afford home care," says Dr Deepak Agrawal, professor, neurosurgery department, AIIMS.
Every day Kumar spends in the hospital costs Rs 6,000 of the taxpayers' money. Keeping him at home on a portable ventilator will cost Rs 100 a day, say doctors.
And, it is not just about taxpayers' money. AIIMS, which is also a referral facility, is overwhelmed by patients from across the country. Every bed, every space counts.
At any given time, the neurosurgery department has at least six patients fit to be discharged occupying critical beds, especially in the Trauma Centre that handles accident cases. This adds to bed shortage, forcing the hospital to turn away at least eight patients a day.
Neurosurgery is one of the busiest departments in the hospital -- it takes anywhere from three months to three years to get a date for a surgery.
In cases of paralysis, doctors usually wait for six months to decide if the patient would regain movement.
"We could probably afford to take five-six more patients if we had an option of shifting these patients to a rehab or a hospice facility. Normally, such patients contract secondary infection such as pneumonia," says Dr Agrawal.
India has treatment facilities on par with the US and the UK but it lags way behind in rehabilitation, doctors say.
Burden of spine injuries is just the tip of the iceberg; there are a large number of people in vegetative state due to severe head injuries.
The doctors at the Trauma Centre did an internal survey. They followed up on 2,500 of their patients discharged from the neurosurgery department over a period of five years, starting 2008. Extreme poverty had lead to half of the patients dying within six months of leaving the hospital.
"We understand the need of hospice facility for cancer patients and those in vegetative state. State governments should create infrastructure to accommodate such patients," a health ministry official said on condition of anonymity.
Read more | Woman battling brain tumour, AIIMS says surgery only in 2020