JNU boils but baffling silence prevails in DU
Updated on Feb 16, 2016 11:13 AM IST
The two big universities in the Capital – JNU and DU — couldn't have a more varied reaction to the incidents at JNU.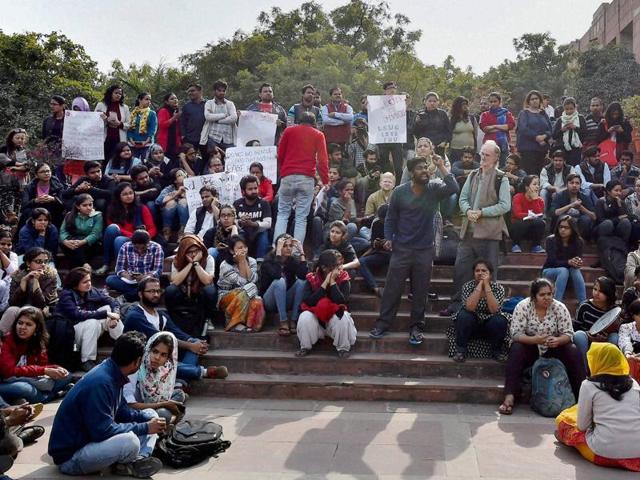 Hindustan Times |
, New Delhi
Mallica Joshi and Shradha Chettri
They have always been two completely different worlds – one a space where there is no mandatory attendance, the other where students are held back for not attending classes; one where life stirs after noon, the other where classes start at 8.30am; one that has been boiling over for the past three days and the other that has maintained a calm exterior.
The two big universities in the Capital – JNU and DU — couldn't have a more varied reaction to the incidents at JNU.
Read more: DU professor Geelani held, brawl breaks out over JNU issue
Since the Delhi University Students' Union comprises ABVP members entirely, any statement supporting JNU students is not expected. Also, since DU's campus is scattered, unlike JNU's residential, close-knit campus, finding a unified voice over any issue has always been a problem.
A lot of teachers from DU have in their individual capacity attended protests and solidarity meets for JNU students.
For students, however, a bigger debate as a group is missing. Only a group of 22 students from the English department have issued a statement of solidarity with JNU students so far.
Tarun Narang, second year student at Campus Law Centre, said since support for Left-leaning student parties in DU is less, a coordinated support is missing.
"The issue has not been able to grow big as the Left-leaning bodies have very less support here... Though among ourselves we do talk about the incident, but views wary. There is a sense of confusion among students," he said.
Many students were reluctant to talk and disconnected calls when asked about the incident.
Read more: 'Traitor, anti-national and intolerant': Who said what at JNU protest
According to Mukul Manglik, who teaches History at Ramjas College, the reason behind the silence could be a mix of fatigue, fear and a slow realisation of the import of what has happened.
"DU students have been fighting against the administration and state for a long time over several issues. This has sapped them, perhaps. Many would also be scared considering the whole anti-national rhetoric, he said.
For Rakesh Sinha, who teaches Political Science at Motilal Nehru College and is a RSS ideologue, the need for any kind of solidarity or condemnation does not arise. "The popular opinion in DU is against those booked," Sinha said.
Read more: JNU row: When dissent becomes sedition, democracy gasps for breath
The Delhi University Teachers' Association, which under the current leadership, is believed to be 'Left' leaning, is yet to come out with an official statement on the developments.
President, Nandita Narain, however, has spoken out against the police action and alleged intolerance as a member of the Federations of Central Universities' Teachers' Association.
Personalise your news feed. Follow trending topics