Landfills or pollution bombs? Delhi's garbage dumps spewing toxic gases
Updated on May 05, 2016 07:45 AM IST
A small spark, a lit match or a cigarette stub, is enough to turn Delhi's landfills into an inferno as a thick gaseous haze, including copious amounts of combustible methane, hangs over them.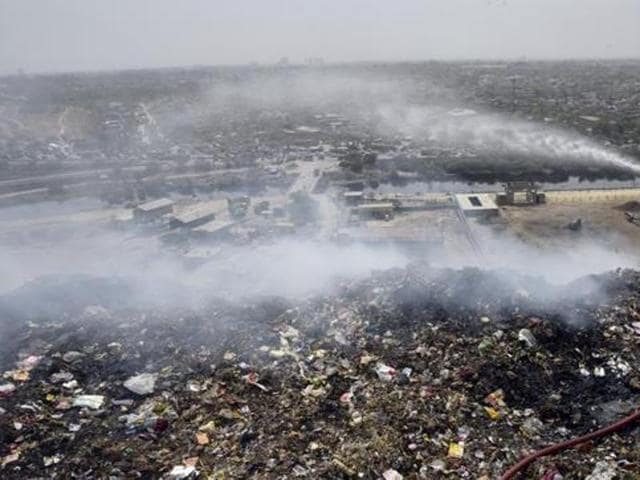 Hindustan Times |
, New Delhi
Mallica Joshi and Mohit Sharma
The mammoth ticking garbage bombs of Ghazipur and Bhalswa landfills are spewing toxic gases by the minute into Delhi's already foul air because the national capital does not have an efficient waste management system.
A small spark, a lit match or a cigarette stub, is enough to turn the area into an inferno as a thick gaseous haze, including copious amounts of combustible methane, hangs over the landfills. Ideally, the methane should be trapped and used as fuel.
Senior Delhi Pollution Control Committee officials say the landfill sites – especially Bhalswa – is on fire permanently.
Read more: Bhalswa like a volcano, simmering for decades, say locals
"As soon as we entered the site on an inspection, a small pit near the entrance was breathing fire. We didn't even need to go up the garbage mound to find a violation," he said.
An IIT Kanpur report on Delhi's air quality showed 7% to 9% of the Capital's particulate matter pollution is because of burning municipal solid waste.
Burning waste also leads to an increased presence of chlorides in the air, which weakens the immune system, irritates lungs and causes respiratory disorders.
Segregation solution
The 10,000 tonnes of waste dumped in the landfills every day — much beyond their capacity—contains waste of all kinds, leaves, paper, metal, cloth and glass because the refuse is not segregated. There are no notified municipal waste rules that stress on the process either.
Experts say at least 50% of the waste generated in the city can be turned into compost and 30% can be recycled. Only 20% should reach the landfills, they say.
The Municipal Solid Waste rules, yet to be notified, make segregation of waste at the source mandatory. This is how countries over the world manage their waste. Kitchen waste is separated from paper and plastic. Glass and metals are also segregated. It is the responsibility of the citizen to segregate waste at home itself.
Once paper, plastics and glass are separated a small component remains which goes to landfill sites.
Read more: Bhalswa landfill on fire, AAP govt alleges sabotage
Power from garbage
DPCC officials say installing methane gas plants at landfill sites will help contain fires.
"The design of these sites needs to be scientific and a methane gas plant is a must. To manage the remaining garbage, a waste- to-energy plan with superior technology must be installed as there is no way to get rid of waste without controlled burning," said Kulanand Joshi, member secretary, DPCC.
Three out of the four sanitary landfill sites – Bhalswa, Ghazipur and Okhla - have exceeded their life span. They overflow with garbage. According to officials the fourth site, Narela, too does not have an effective waste management plant, although 'plans' are still being made and 'consultations are being sought' for a world-class waste management site.
Only Ghazipur landfill has a plant to capture methane and convert it into energy, though it was established after dumping began. It is of a much smaller capacity and can't contain the all the emissions, resulting in fires. The plant produces 12 megawatt of energy.
Okhla has a waste-to-energy plant which produces 16 megawatt of energy.
Read more: Methane trapped beneath makes Ghazipur landfill a ticking time bomb
Personalise your news feed. Follow trending topics