Bhalswa like a volcano, simmering for decades, say locals
Published on Apr 22, 2016 02:07 PM IST
Residents say their complaints have fallen on deaf ears over the past decade and the only solution is moving out of the area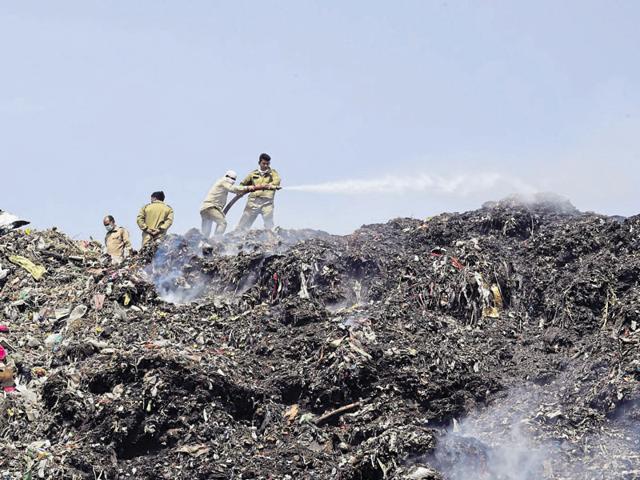 Hindustan Times |
, New Delhi
Mohit Sharma
Anwar Khan, 57, describes the Bhalswa landfill in his neighbourhood as a 'mountain of fire'. He says though the dump has been simmering continuously for the past decade, the authorities have done little to clean the foul air.
"Initially, when I moved to the area, I couldn't stand the stench. But I have got used to it now. At night, you can see tiny fires across the landfill. This leads to smoke spreading in the area," said Khan.
Commissioned in 1993, the Bhalswa landfill site became functional in 1994. However, due to lack of any garbage management laws, the site soon turned into a mountain of garbage. Though the landfill ran out of space in 2007, the municipality continues to dump trash here in the absence of other dump yards.
Local residents say their complaints have fallen on deaf ears over the past decade. They say the only solution is moving out of the area.
Also read: Bhalswa landfill on fire, AAP govt alleges sabotage
"Our relatives rarely visit us as the smell is unbearable. We have to keep the doors and windows of our house shut to keep out the stench," said Sunil Singh, 27, a local resident.
Another resident complains about how the wind spreads the smoke. "During windy conditions, we can't breathe. Most senior citizens are suffering from respiratory diseases due to the smoke," said Amarpal, a 24-year-old resident.
Truck drivers who dump garbage atop the garbage pile have their own story. "Initially, we used to unload trucks atop the landfill. That is no longer possible. Truck tyres would burst in the heat," said Chinnu Singh, a truck driver.
Singh further said many workers had got injured trying to douse the fires that break out often on the landfill.
Personalise your news feed. Follow trending topics