Missing JNU student Najeeb Ahmed was emotionally disturbed: Cops
JNU student Najeeb Ahmed, missing since October 15, was on anti-depressants and taking medication for insomnia and obsessive compulsive disorder, police sources said.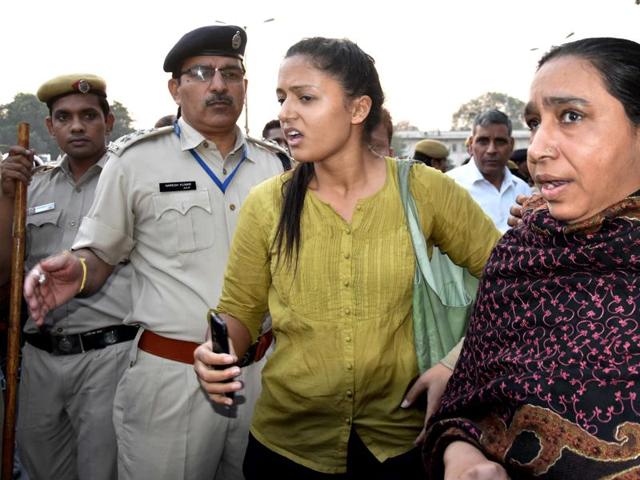 Updated on Nov 08, 2016 01:31 PM IST
Hindustan Times |
, New Delhi
HT Correspondent
Missing Jawaharlal Nehru University student Najeeb Ahmed was on anti-depressants and taking medicines for insomnia and obsessive compulsive disorder, police sources said.
Investigators said they accessed prescriptions from the doctor he allegedly visited thrice in the two weeks before he went missing for treatment. They found out that he may have been emotionally disturbed.
Police suspect that Ahmed may have left the JNU hostel voluntarily. Sources also said they may raid JNU hostel.
Ahmed, a 27-year-old first-year MSc student, went missing from campus on October 15 after getting into an altercation with members of the RSS-backed Akhil Bharatiya Vidyarthi Parishad. There has been no information about Ahmed's whereabouts so far.
"After a scuffle with ABVP members, Najeeb reportedly felt depressed and did not sleep a wink that night. He was so upset that he called his mother, crying, telling her that he would leave the hostel soon. His mother, who was aware of his condition, asked him to stay put till she reached the hostel," a police source said.
"His mother even called his roommate, requesting him not to leave Najeeb alone till she reached the hostel. Though his mother has refused that Najeeb was on medication for depression and had neurological problems, his doctor confirmed it," a police source said.
Ahmed's mother, however, maintained that he was fit. "The police are making this up because they are unable to find my son," she told HT.
Read| Police detain protesting JNU students, their missing colleague's mother
The doctor also told police that he often spoke about leaving the hostel as he was unable to adjust in the environment and felt depressed.
"On the night of October 14, his roommate Qasim did not leave his side all night. In the morning, Najeeb's mother called Qasim telling him that she had reached Anand Vihar and will reach the hostel in 30 minutes. It was then that Qasim left the room to go to the washroom to freshen up. When he returned after 10 minutes, Najeeb was already gone. His phone, wallet and laptop were lying on the table. No one entered the room and Qasim could not hear anyone call for Najeeb. It is unlikely that someone abducted him," a police source said.
Speaking to HT, Ahmed's roommate, Qasim, said he had given him three pills on the night of the incident as directed by his mother. He did not know if they were anti depressants.
"He joined on September 20 and in between went home. So, we could not spend much time together. I did not notice him taking any pills. On the night when he had a fight, his mother asked me to give him three pills to put him to sleep. I, however, never noticed any abnormal behaviour in him," he said.
The police team accessed a list of Ahmed's childhood friends from Tamil Nadu's Vellore. "It is possible that Najeeb went to his childhood friends. We have sent a team to the addresses to find him. We have also sent teams to the house of his relatives. A raid was also conducted in Jamia Nagar Islamia and the hostel. The search is on," a senior police officer said.
Read| JNU student missing: Different versions of the mystery
Close Story