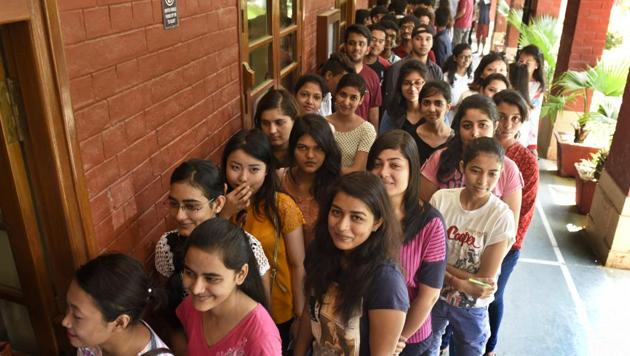 NAAC rankings: No DU college makes to top grade
The NAAC rankings have thrown up some surprising results. While none of the colleges have made it to the A++ grade, St Stephen's College has secured 12th position score less than Kirori Mal, Khalsa College, Acharya Narendra Dev College
UPDATED ON JAN 16, 2017 05:05 PM IST
There is a rush of students every year for admission to different Delhi University colleges which are considered the best in the country. However, none of the colleges have managed to get the highest grade in quality assessment conducted by a UGC appointed panel.
The quality status score is given by the National Accredition and Assessment Council (NAAC), an autonomous body of University Grants Commission (UGC). The highest grade that the body gives is of A++, which no DU college has managed to secure in the latest rankings.
Tested on parameters such as curriculum, teaching learning, evaluation, faculty research, infrastructure, learning resources, governance and student services, only three out of the 62 colleges secured the second grade of A+. Shri Ram College of Commerce (SRCC), Lady Shri Ram College for Women (LSR) and Hindu College have scored 3.65, 3.61 and 3.60 points, respectively. To get A++ an institution has to score a grade between 3.76 to 4.
"There are certain parameters like research, consultancy and extension on which colleges are marked. But if we see research is not factored in our workload and over consultancy there is a veil of secrecy. So for colleges and universities there can't be judged on the same set of parameters," said a teacher at LSR on condition of anonymity.
However the college whose score has taken everyone by surprise is St.Stephen's. The college, which has got A grade with 3.21 score, is lower than colleges such as Kirori Mal, Khalsa College, Acharya Narendra Dev College and Jesus and Mary. The A grade also has Sukhdev College of Business Studies, Sri Venkateswara College and Zakir Hussain College.
Parameters on which NAAC scores are based
These scores are valid for five years after which the colleges will again have to apply for accreditation. It was in 2012 that UGC made accreditation compulsory for higher educational institutions and DU executive council adopted the decision in 2014.
Once an institution applies for the accreditation, a peer team from NAAC visits the colleges for 3-4 days and interacts with teachers, students, alumni and all stakeholders of the institution. "It is a very systematic process which is comprehensive and some of which is even video recorded," said a teacher at SRCC.
While the grades are out, their impact remains unclear. "This is something we are not very sure about. By what we have heard, this score would determine the grant given by the government to the institutions," said a teacher at St. Stephen's College.
Top 10 scorers

*St Stephen's College is 12th with 3.21 score
Close