Never expected Anna to react like this: Digvijaya
Updated on Nov 25, 2011 05:21 PM IST
Anti-corruption activist Anna Hazare has received a lot of flak for his initial reaction on hearing the news of Union minister Sharad Pawar being slapped by a man in Delhi. Buzz on Twitter | Cartoon: Slapgate | Video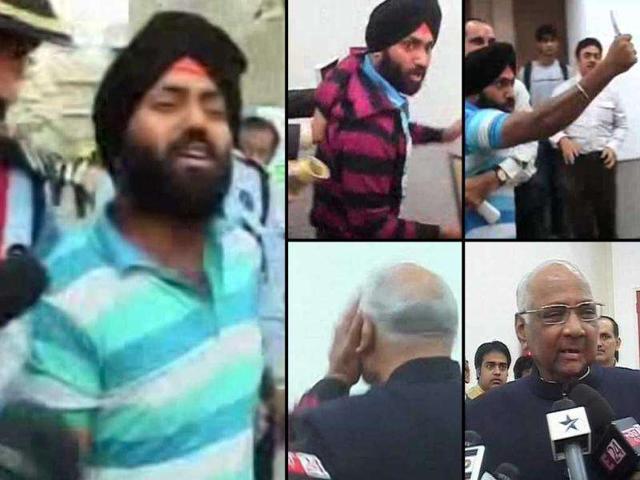 Anti-corruption activist Anna Hazare has received a lot of flak for his initial reaction on hearing the news of Union minister Sharad Pawar being slapped by a man in Delhi.

Senior Congress leader Digvijaya Singh on Friday criticised Hazare for his reaction.

Singh tweeted, "Never expected Anna to react the way he did to Sharad Pawar incident. It certainly was not a Gandhian Reaction."
On Thursday, many leaders including Jammu and Kashmir CM Omar Abdullah and Congress leader Manish Tewari had criticised Hazare.
Just days after calling for the public flogging of alcoholics, the social activist created another controversy with his reaction to the assault of Sharad Pawar: "Ek hi mara kya (was he slapped only once)?"
Immediately after making this remark at a press conference, the 72-year-old retreated into his house.
He emerged seconds later and made a complete U-turn: "He (the attacker) may be very angry. This is not good. Anger is not good. Our Constitution does not tell us to be violent with anyone."
As criticism poured in, Hazare clarified: "I was asking them (reporters) if he was only slapped or if anything else happened to him."
"However, if it is perceived that I have said something wrong, I am ready to apologise," he added.
Hazare and Pawar, both from Maharashtra, have been at odds for almost two decades now. In the last assembly election, Hazare had in a public statement accused the union agriculture minister of corruption, land grabbing and use of muscle power.
The last time they tangled was over the Lavasa project, when Hazare accused Pawar of protecting the hill city project near Pune because of a personal interest in it.
Personalise your news feed. Follow trending topics