Pollution monitors in Delhi may not be showing the full picture on air quality
Feb 13, 2017 10:45 AM IST
Hindustan Times spot check finds differences in air pollution data, experts say reasons range from height of pollution monitoring device to distance from a spot.
Talk about bad air quality in Delhi and the apocalyptic readings of east Delhi's Anand Vihar – a transport hub and arguably one of Delhi's most polluted and congested spots — pop up.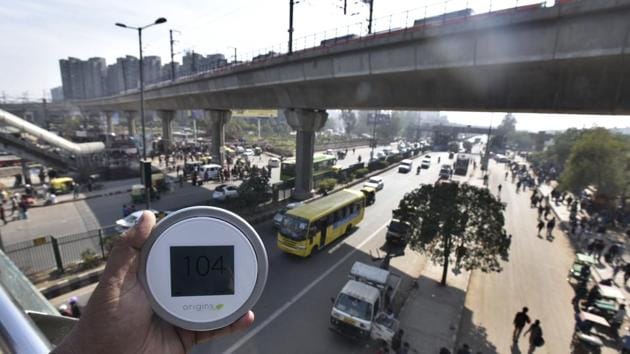 But Delhi's pollution map is much more than this choked corner.
When a 2015 study said Delhi's air is consistently more toxic than that in Beijing, SAFAR (System of Air Quality and Weather Forecasting and Research) chief Gufran Beig disputed the finding. He said comparing pollution levels of south Delhi's RK Puram with the US embassy in Beijing was not correct because of a huge geographical difference between the two locations.
"The US embassy is outside the polluted zone of Beijing and has a lush green area on one side and a big water body on the other, both contributing to pollution sequestration. RK Puram is in the middle of Delhi and is next to the congested Ring Road without any sequestration zones," he had said.
HT visited seven places in Delhi, where air quality is monitored, with a mobile machine to check if the location had any impact on measuring pollution levels.
Stations at RK Puram and Mandir Marg are in green zones, some distance away from emission emitting vehicles. But a few such as those at ITO and Siri Fort are close to the road, and would naturally show higher pollution.
The perennially polluted Anand Vihar on the Delhi-UP border is located between a tri-junction of a railway station, bus terminus and a Metro station. The station at the busy Punjabi Bagh is in the middle of a bungalow-dominated neighbourhood.
We found a difference in the official pollution levels and HT's measurement (see GRAPHIC). Most experts HT spoke were not surprised. They said it could be because the technology used in the HT machine may be different from the official monitoring stations. It also depends how close to the air pollution the air was measured.
The reasons behind the difference in data was different for the sites. At RK Puram, we caught peak traffic hour whereas DPCC data did not record spurt in congestion, while at Siri Fort, the reason might be higher traffic and our monitor being at a lower level than CPCB station.
At ITO, the CPCB monitor is inside INSA – few metres away from the main congestion point, whereas we were close to the source while at Anand Vihar, the DPCC monitor is at a higher level thereby catching pollutants from all three major sources — railway station, bus terminus and Chaudhari Charan Singh Marg. At Mandir Marg, there was marginal difference which might be because of different calibrations of HT and DPCC monitor, while at Punjabi Bagh, we caught pollution levels with higher traffic flow than the DPCC monitor.
So why were these locations selected?
In Delhi, SAFAR set up an integrated air quality monitoring system along with automatic weather stations at 10 "different strategic locations within NCR".
"The 10 locations were purposefully selected so as to represent all kinds of localities in the NCT… As per international guidelines, the correct way to know one index for a city air quality is to consider different microenvironments… For a typical metro city, commercial; urban complex; sub-urban; residential; industrial; road side; traffic junction are the microenvironments which should be covered in the monitoring network," a World Meteorological Organisation report says, adding that the SAFAR network met all micro-environment parameters.
Apart from SAFAR, air quality in Delhi is monitored by the Central Pollution Control Board and the Delhi Pollution Control Committee. The three agencies collect air quality data at 28 locations, maximum for any city in India, but do not have a uniform mechanism to disseminate information on a real-time basis.
The CPCB is preparing fresh guidelines on the placement of these monitoring stations, said Dr Dipankar Saha, additional director and head of the Air Laboratory at the Central Pollution Control Board (CPCB).
"The height of these monitoring points should be changed. Uniform height is not the way forward. All stations should have different monitoring heights to get well-mixed, representative data," he explained.
A DPCC official said there was no ideal location in a metro city like Delhi for a monitoring station.
"In Delhi, we have monitoring two hotspots -- one on the airport runway to ascertain the aviation impact, and Anand Vihar to see the impact of other states and vehicular pollution. In other stations, we measure ambient air quality," he said.
The DPCC will add 20 more stations to cover other micro-environment zones to provide a realistic picture of Delhi's air quality. These will be evenly distributed between industrial, commercial and residential areas and even hospitals.
"Pollution is definitely bad but not as bad as it has been made out to be. The air quality may be very poor for instance at busy intersections like ITO crossing but that doesn't mean it will be same in Chanakyapuri or Narela in outer Delhi," DPCC senior scientist MP George said.
"In an unplanned city like Delhi, you can't get optimised stations. Nothing will be enough. But when the number of stations increase, you will get better representative values," he added.