Sangam Vihar gets waste smart
45 families have adopted the concept of community composting to dispose of garbage in a methodical manner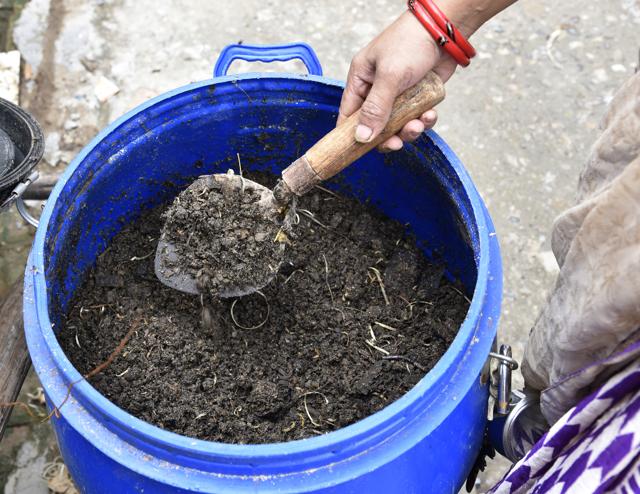 Updated on Aug 03, 2016 07:16 PM IST
Garbage disposal won't be a hassle for residents if they make a little effort and adopt simple methods. This is the takeaway from the initiative by the residents of Sangam Vihar. For proper disposal of garbage, 45 families adopted the concept of "community composting" introduced by a self-help group. A few homemakers of the area were taught the correct way to convert garbage into compost. The project was started six months back and residents accepted it in a few months.
Known to be Asia's largest unauthorised colony, waste management has been a huge challenge for Sangam Vihar. Civic infrastructure is also crumbling. There is no designated place where residents can dump garbage. So they have been throwing it on an empty piece of land. Auto-tippers, a service arranged by the South Delhi Municipal Corporation (SDMC) for garbage collection, come once in two or three days. As a result, rotting garbage invites flies, insects, rats, and reptiles and facilitates breeding of mosquitoes causing serious health problems.
After initial hesitation and confusion, residents joined the initiative and at present nearly 75% of wet garbage generated by the families is being turned into compost. Delhi is already facing huge garbage disposal crisis as the city produces over 9,000 metric tonnes (MTs) waste every day. And the three designated Sanitary Landfill sites (SLF) in Okhla, Ghazipur and Bhalswa are operational despite the fact that they are full to capacity.
Ranju Minhas, founder of NGO Team Shield, said, "Sangam Vihar lacks infrastructure facilities. The residents don't have access to dhalaos and they dump garbage in the open or in vacant areas. This leads to unhygienic surroundings and increases the chance of spread of diseases especially in rainy season. Hence, we chose this area. The response has been encouraging."
Read: Locals adopt 'zero waste policy', pilot project to begin in Mehrauli
The NGO members organised workshops and asked residents to use cloth bags because they are non-biodegradable. "If people start treating garbage at home they won't need polybags anymore," she said. The members distributes cloth bags in the locality.
Babita Negi, one of the volunteers and resident of the area, said that the success of this programme wouldn't have been possible without the support of the residents and their willingness. "People thought that it would generate smell and attract flies that's why they were reluctant to be part of it. They were also not keen to segregate kitchen and dry waste at home," she said.
Negi kept two huge plastic drums to collect wet waste in her lane. She put waste and sawdust in equal quantity regularly. The bins were kept tightly covered to prevent foul smell. "To supply oxygen for composting, I made a few holes in the drums. The helps in converting garbage into compost in six weeks' time. After seeing the results, other resident followed," she said. The organisation is providing these drums free of cost.
Jaishree, another volunteer and resident, convinced the residents in her lane. "I managed to convince people to participate, but I had to be alert because sometime people would dump waste in polybags and this could hamper the process," she said.
"We are working hard to promote the concept in Sangam Vihar as garbage disposal is a big issue and needs immediate attention," said Meenu, a volunteer from the area.
People of the area seem excited with the introduction of the concept and admit that it becomes their responsibility if the civic body does not collect garbage. "SDMC is collecting the garbage after an interval of two to three days. At times, it takes more time. In the given circumstances, it becomes our responsibility to look for solutions," Saroj, a resident, said.
The volunteers are talking to the garbage collectors in the area and encouraging them to use the disposal method. "We want to make them understand the value of organic waste. As of now, garbage collectors just pick dry waste and dump rest of the garbage in the open which becomes a trouble over the period of time. If they also adopt the concept, things will become easier for us," said Minhas.
Neeraj Gupta, chairman, central zone and councillor from Sangam Vihar, said, "SDMC has engaged auto-tippers for garbage collection but these kinds of initiatives are important for garbage disposal."
Close Story
Personalise your news feed. Follow trending topics