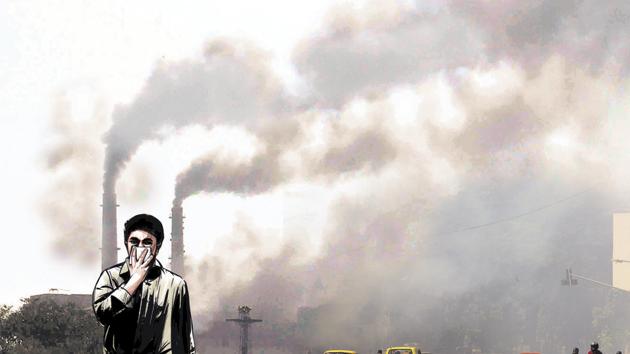 Top court tells central body to fix emission standards for polluting industries in Delhi-NCR
A SC bench ordered the Centre Pollution for Control Board to fix emission standards for industries -- using pet coke and furnace oil - that release sulphur dioxide and nitrogen oxide.
Hindustan Times | By Bhadra Sinha and Malavika Vyawahare
, New Delhi
UPDATED ON MAY 02, 2017 11:51 PM IST
After cracking the whip on polluting vehicles, the Supreme Court turned on Tuesday its spotlight to polluting industries in Delhi and NCR.
A bench headed by Justice MB Lokur ordered the Centre Pollution for Control Board (CPCB) to fix emission standards for industries -- using pet coke and furnace oil - that release sulphur dioxide (SOx) and nitrogen oxide (NOx). The two harmful gaseous emissions are major industrial pollutants after carbon dioxide.
The order came after the court was informed that right now there are no standards prescribed for industries. Senior counsel Harish Salve and advocate Aparajita Singh – assisting the court in the case related to pollution in Delhi – said it was time to have standards in place.
According to them, the NCR towns, which includes parts of Rajasthan, Haryana and Uttar Pradesh, have agreed to implement the norms. On their suggestion, the court fixed June 30 as the deadline for CPCB to spell out the norms and gave time to the industries till December 31 to adhere to them.
"If you (industries) don't then you better shut down. Start preparing for it from now," the bench said. Last month, the court stopped sales of BS-III vehicles, rejecting the demand of automobile manufacturers to let them sell the stock.
The court said the government notification announcing the transition to BS-IV fuel technology was not restricted to manufacturing, but also sales.
Besides, vehicular pollution industry and thermal power plants are recognised as the most dominant sources of air pollution, constantly spewing polluting matter into the atmosphere.
Pet coke that is inferior quality fuel and furnace oil have sulphur levels as high as 72,000 ppm and 23,000 ppm. SOx emissions are generated from the combustion of sulphur in the fuel.
Delhi would require an almost 40% decrease in annual average concentration of NOx to meet the prescribed limits of air quality standards.
The Badarpur thermal plant in Delhi contributes heavily to air pollution in Delhi, and is the most polluting power plant in the country, according to a 2015 CSE report.
"Combustion sources -- vehicles, power plants and industry -- need more stringent and priority action," the Environment Pollution (Prevention & Control) Authority's air pollution report said, calling for an urgent ban on dirty industrial fuels.
Close