BJP must not lean on communal polarisation to reap political benefits in Uttar Pradesh
Feb 13, 2017 08:52 PM IST
For all its talk about developmental politics and Prime Minister Narendra Modi's "sabka saath sabka vikas", it seems that the BJP is not averse to lean on the tried and tested, but regressive and divisive, path of communal polarisation. This is unfortunate and unacceptable
The BJP rose to power using the development plank in the 2014 general elections and since then it has been a "chunavi mudah" (election promise) for the party in subsequent assembly polls. However, this has not always worked in favour of the national party: The BJP has won some elections but lost more. This could be one of the reasons why the party, while still talking about "vikas", has a tendency to slip in statements that could lead to communal polarisation. Nowhere is this more apparent than in Uttar Pradesh that goes to polls starting February 11.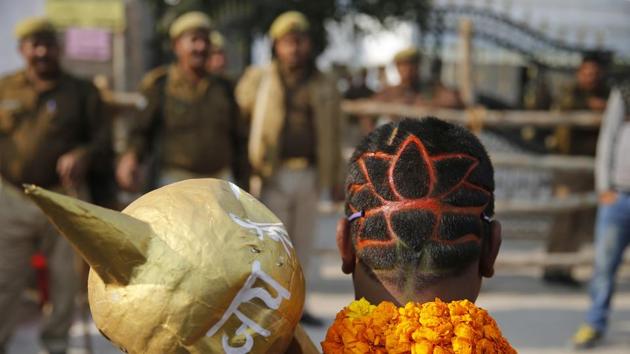 The party's election manifesto for Uttar Pradesh and recent statement by some of its leaders corroborate this. The manifesto promises the concept of an "anti-Romeo dal", which many suspect is a repackaging of the controversial "love jihad" campaign. It talks about the banning of triple talaq — which, as reported on this page, is seen by many Muslims, especially women, as a politicisation of what is essentially a religious matter.
Read | Ram temple issue in BJP manifesto draws flak from opponents in Mathura
Recently, BJP MP Yogi Adityanath said that the alleged exodus from Kairana and "love jihad" would "dominate the poll scene" in UP. The MP added that the BJP would not let western UP become another Kashmir, referring to the forced displacement of Kashmiri Pandits from the Valley in the nineties.
Chetan Chauhan, cricketer-turned-BJP leader, in a recent interview to HT, said that the "majority community" was feeling let down, and that there could be a "consolidation of the majority" community. Has the campaign focus shifted from development to religious sentiments?
Adding to this polarisation, is the statement by RSS chief Mohan Bhagwat that "everyone born in the country is a Hindu....Even Muslims are Hindus by nationality, they are Muslims by faith only." Mr Bhagwat's statement is aimed at pushing India more towards the RSS' idea of a "Hindu rashtra".
Read | Muslims are Hindus by nationality, they are Muslims by faith only
For all its talk about developmental politics and Prime Minister Narendra Modi's "sabka saath sabka vikas", it seems that the BJP is not averse to lean on the tried and tested, but regressive and divisive, path of communal polarisation. This is unfortunate and unacceptable. It is unfortunate because the BJP, which runs the government at the Centre, has an advantage to set the discourse, and it is unacceptable because elections in the most populous state in India should be held without the spectre of communalisation. The BJP, as is expected of other parties, should set an example by shunning disruptive politics.