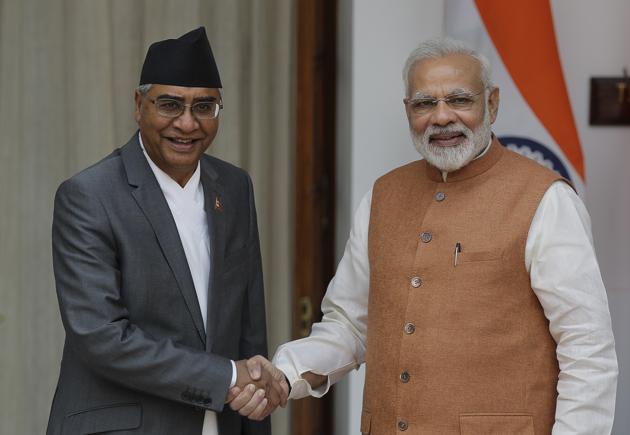 India must ensure Nepal's constitution is genuinely inclusive
Prime Minister Sher Bahadur Deuba's New Delhi visit brought the complexity and intimacy of the India-Nepal relationship into focus
UPDATED ON AUG 27, 2017 03:38 PM IST
India has multiple and at times contradictory goals in its relations with Nepal. One is to bring political stability to South Asia's poorest and arguably most divided country so that it does not slip back into civil war. The overriding element of this goal, at present, is to ensure Nepal's fractious leadership does not pass a Constitution that creates a polity that is permanently biased against its Madhesi population. Its other goal is to persuade the several political elements of Nepalese politics to work together to produce a reasonably functional government and allow India to help the country's economic development, especially in terms of infrastructure. Finally, and publicly unstated, is New Delhi's desire to limit the degree to which Pakistan — which has used Nepal as a conduit for terrorist attacks on India — and China are able to have an influence on the country.
State visits by Nepalese dignitaries, the most recent being that of Prime Minister Sher Bahadur Deuba, bring the complexity and intimacy of the Indo-Nepalese relationship into focus. The Deuba government has promised to pass the two constitutional amendments that would ensure Nepal does not marginalise the Madhesis and other terai groups. However it is highly doubtful his coalition government will be able to muster the necessary votes. Kathmandu seems set to descend into yet another game of political musical chairs in which the same three or four politicians take turns holding the prime-ministership.
Nepal's present situation offers up a set of suboptimal choices. The timeline for passing the constitutional amendments seem likely to be pushed back given Deuba's weakness. Therefore New Delhi has urged the Madhesi parties to end their boycott of coming provincial elections, calculating that the loss of political clout outweighs the gains from pressing a gridlocked Kathmandu. The focus of policy has instead switched back to finishing the numerous connectivity and power projects that are still pending between the two countries. These have become more important given China's enormous Belt Road Initiative and its implicit use of infrastructure to change the geopolitics of South Asia. The joint statement following Mr Deuba's visit is noticeable for the prominence given to such projects. While this policy back-and-forth can be partly understood given the ever changing landscape of the country's fragile polity, India must remain clear about the overriding priority of ensuring the Nepalese constitution is genuinely inclusive. Without this, Nepal's development will carry within it a latent cancer that will in time become destructively malignant.
Close