India-US ties: A new symphony in play
Narendra Modi and Barack Obama have probably found the right balance: A relationship with a strong economic and civil society foundation — one with a strategic convergence in some areas. But nothing strong enough to make India and the US to consider themselves in an alliance and nothing negative enough to see the two become antagonistic in any fundamental way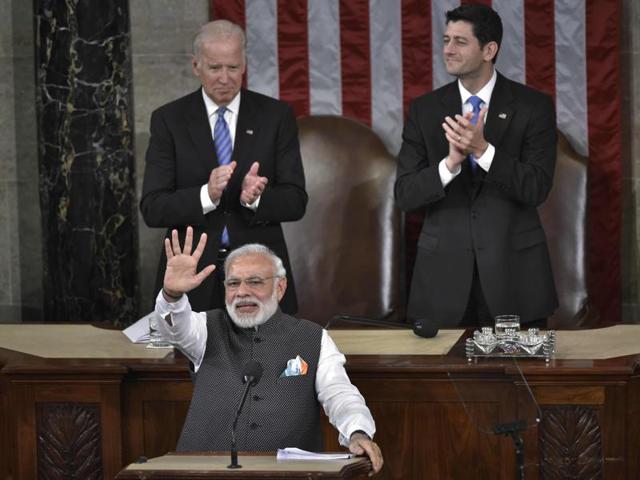 Published on Jun 09, 2016 07:38 PM IST
Statecraft goes easier with the United States behind you. When Prime Minister Narendra Modi spoke to the US Congress on Wednesday about the US being an "indispensable partner" he was speaking to something he has come to realise: The US is the world's technology leader, and has the greatest influence in the globe. Even with the US' relative economic decline and the prevarication that have marked the Barack Obama administration's foreign policy, any world leader with as ambitious a domestic and regional agenda as Mr Modi will find Washington almost essential to accomplish these goals.
Read | In rousing speech to US Congress, PM Modi signals new moment in ties
Post the Cold War India-US ties have been on an upward trajectory marked by sharp drops and unexpected rises. The exemption from global nuclear sanctions rammed through by the George W Bush administration marked a high. The second Manmohan Singh government was its antithesis, where Mr Obama lost interest in a prime minister unable to fulfil anything that he promised to do. Mr Modi and Mr Obama have probably found the right balance: A relationship with a strong economic and civil society foundation — one with a strategic convergence in some areas. But nothing strong enough to make India and the US to consider themselves in an alliance and nothing negative enough to see the two become antagonistic in any fundamental way.
Read | US indispensable partner; terror is incubated in India's neighbourhood: Modi
Mr Modi's speech and his visit underlined where the two countries overlap the most — concerns about China and terrorism — and disagree the most — Afghanistan and Pakistan. The most remarkable development of the past two years is the evolution of a strong relationship over climate change, something close to the hearts of both Mr Modi and Mr Obama. If India achieves its aggressive renewable energy goals, it will be in large part to successfully harnessing the US' financial prowess and technology.
Read | India has not claimed intellectual property rights on yoga: Modi to US Congress
Yet there are clouds on the horizon. The most worrisome being the rise of non-mainstream presidential contenders like Donald Trump. This indicates that the post-War foreign policy consensus that made the US such a dependable country to work with is unravelling — bringing with it many uncertainties. Mr Modi has rightly sought to concretise or resolve as many outstanding issues between the two countries, even if it means working with a lame duck administration and impressing US legislators. What has been accomplished is to ensure that a fundamental US policy regarding this country is to promote and support the rise of India on the world stage, in rain and shine, for better or worse, and irrespective of who rules in Washington.
Close Story