Modi sends out a clear message at the Shangri-La Dialogue
Jun 04, 2018 11:24 AM IST
India's vision of the Indo-Pacific will have Asean at its centre and will be all about creating a rule-based and stable trade environment
Prime Minister Narendra Modi chose Asia's premier security forum to unveil India's comprehensive and ambitious vision for the Indo-Pacific, a term that has gained much currency this year. Speaking at the Shangri-La Dialogue in Singapore on Friday, Mr Modi was unambiguous in staking a claim to a key role for India in a region that he said stretches from the shores of Africa to those of America. He spoke of inclusive engagement and of ensuring that the Indo-Pacific isn't perceived as a "club of limited members".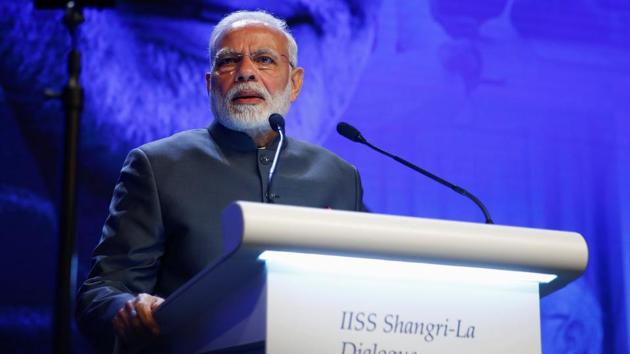 India's vision of the Indo-Pacific, he said, is positive, would not be directed against any country, and would be all about creating a rules-based and stable trade environment. Mr Modi also placed the Association of Southeast Asian Nations (Asean) at the centre of this vision as one of the crucial building blocks of the Indo-Pacific.
There was also a mention of the need for India and China to work together as an "Asia of rivalry" would hold back the entire region. Clearly, this was in line with efforts by the two Asian giants to reset their troubled relationship in the wake of the Wuhan summit between Modi and President Xi Jinping.
However, Mr Modi did not shy away from raising some sensitive issues linked to Beijing that have caused concern across the Asia-Pacific and among Asean members. Without naming China or referring to the disputes in the South China Sea or the Belt and Road Initiative (BRI), he called for a free and open region with a rules-based order without dependence on force. There would have to be equal access, freedom of navigation and peaceful settlement of disputes, he said — a clear reference to the South China Sea, where Beijing has established a military presence on disputed islands.
All connectivity, Mr Modi said, will have to be built on bridges of trust and respect for sovereignty without placing nations under an impossible debt burden — again, a clear nod to BRI that India has opposed and has brought with it a debt trap for several countries, including some of India's neighbours.
In many ways, Mr Modi's speech built on India's Act East policy and the steps taken by New Delhi to gain access to more naval facilities in countries such as Indonesia, Seychelles and Oman. However, such talk will have to be backed up by more robust action, including a reasonable build-up of India's naval capabilities, if the country is to really emerge as one of the main players in the Indo-Pacific.