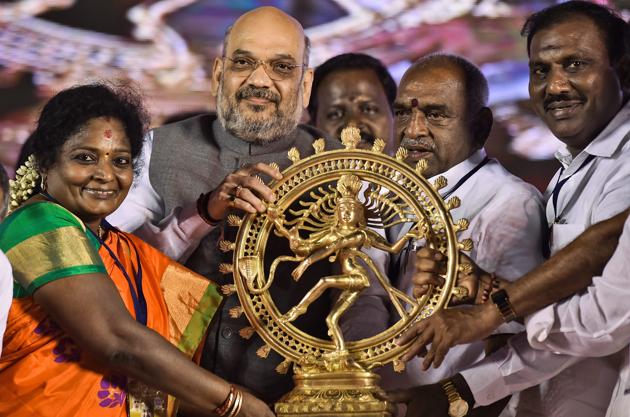 The right allies in Tamil Nadu could boost the BJP's prospects in 2019
While officially the DMK is part of the UPA, the BJP will be hoping to lure it away, as it has a lesser set of problems than its main opponent, the AIADMK
UPDATED ON AUG 28, 2018 06:34 PM IST
The deaths of J Jayalalithaa and M Karunanidhi within 20 months of each other and the elevation of MK Stalin as president of the DMK have upturned old certainties and ushered in a new era of possibilities in Tamil Nadu's politics. The BJP does not want to repeat the mistakes of 2004, when the DMK walked out of its alliance in TN, cutting short its hopes of retaining power again at the Centre.
The BJP also realises that it is difficult to repeat the kind of sweep it managed in 2014 in several western and northern states, especially if the Opposition parties come together. So apart from the eastern part of the country, it has set its sights on Tamil Nadu with its 39 seats.
Until now, Tamil Nadu has been a hard nut to crack as far as the BJP goes. Most parties in the state have held true to the Dravidian ideology with its anti-upper caste and anti-Hindi position. Except for winning the odd seat such as Kanyakumari or Coimbatore in alliance with a regional party, the BJP has faltered in the state.
However, circumstances have changed now and with politics being as fluid as it is in the state, the BJP is hoping to get a foot in the door.
The ruling AIADMK , without any charismatic vote catcher, is split down the middle. The EPS-OPS faction, which is in power, is more of an aggregation of district-level satraps without a strong leader. The AMMK, the splinter faction led by TTV Dhinakaran, may get the support of the Mukkulathor (Thevar) community concentrated in the central and southern districts of the state, the traditional supporters of the AIADMK.
The other pole in state politics, the DMK, is hobbled by sibling rivalry. Though Stalin is now in command of the party, it is still unclear what impact his estranged brother Azhagiri will have on the party if he decides to float another party or align with an existing formation.
While officially the DMK is part of the UPA, the BJP will look to lure it away; it is, currently, a more attractive option than a beleaguered AIADMK.
The two Tamil superstars-turned-politicians, Kamal Hassan and Rajinikanth, are electoral novices. While Kamal has made it clear that he will have no truck with the BJP, Rajini is still sitting on the fence.
Smaller parties like the PMK, the VCK and the MDMK will seek to align with the winning coalition. For the BJP, the right ally is crucial in realising its ambition of coming back to power in 2019 . This lends urgency to the search for a pre-poll alliance.
Close