This all-India labour strike will not be the last one
Published on Sep 02, 2016 02:22 PM IST
While the unions have a point, one thing missing in the discourse is that they often adopt violent methods in dispute resolution, as had been seen in the Maruti incident in 2012. They also do not take into account that sometimes labour laws do stand in the way of job creation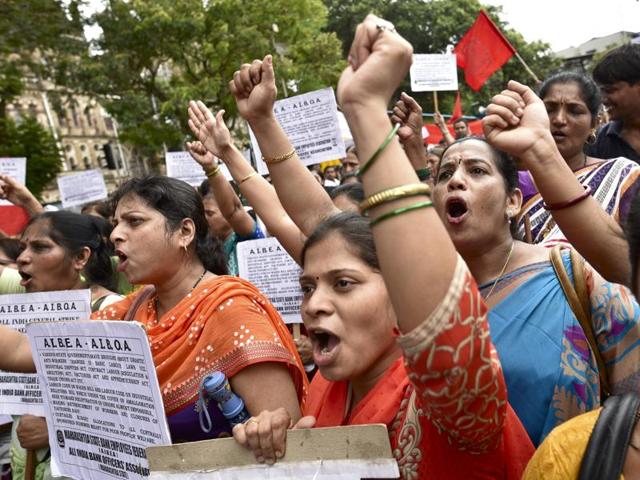 From early reports available the labour strike on Friday, called by about 10 unions, met with a mixed response. The union affiliated to the BJP has not participated in the strike. Union leaders have claimed that more than 150 million workers have stayed off factories and workplaces. Their demands are better wages and job security, which they say are under threat because of the policies of the central government. The strike has come despite the central government increasing the daily wage of non-skilled non-agricultural occupations substantially, but the unions dismissed this hike as too paltry. The unions had gone on strike in September last year also and on issues that were more or less the same.
Read: Buses off roads, schools closed: Trade union strike disrupts life in many states
The main grouse of the labour unions goes back to the time when Prime Minister Narendra Modi announced a package of labour reforms in October 2014, just within five months of coming to power. Though the package was named "Shrameva Jayate", which conveys dignity of labour, the unions did not take kindly to it. The announcements were many such as dismantling the process of labour inspections, like whether minimum wages are paid or not, and also an electronic system of compliance with labour laws. Some states such as Rajasthan and Madhya Pradesh have gone ahead with their own labour law relaxations. On top of this the unions are not happy with the dilutions in the Factories Act and Apprentices Act. Another complaint that labour unions have is that the Indian government has not yet ratified the International Labour Organisation's Conventions 87 and 98, which give workers the right to form unions and bargain for higher wages and other benefits. The problem has been compounded by the fact that the statistics relating to labour are sometimes sketchy, preventing policy formulation. Two departments — Central Statistics Office and Labour Bureau — are engaged in the job and the demarcation of roles is not clear.
Read: Bandaru Dattatreya blames previous UPA govt for trade unions' woes
While the unions have a point, one thing missing in the discourse is that they sometimes adopt violent methods in dispute resolution, as had been seen in the Maruti incident in 2012, when one executive had been killed. They also do not take into account that sometimes labour laws do stand in the way of job creation. Some industries such as textiles are not permanent and here labour hired for temporary periods can help. But the laws do not allow that. And given the hardened positions that unions adopt on such issues, not much progress can be expected immediately.
Personalise your news feed. Follow trending topics