Why Shane Warne was an iconic player
Updated on Mar 06, 2022 07:31 PM IST
Cricket will also miss his insightful observations, and ability to call it as he saw it — never holding back to please the establishment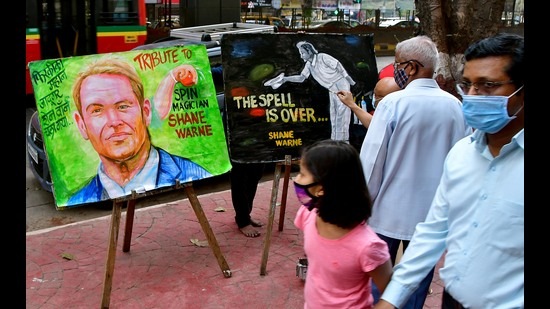 The death of Australian spin legend Shane Warne aged 52 on Friday has left the sporting world in shock, cricket mourning arguably the greatest bowler the game has seen and his sports crazy nation, a player compared to Don Bradman.
Warne's 708 wickets — only Sri Lankan spin great Muttiah Muralitharan with 800 has more — in 145 Tests places him on the highest rung of cricket. To the player with a blond mop of hair and a laidback beachgoer image that was embellished by his colourful life outside the game, goes the credit of reviving the difficult art of bowling leg spin.
He achieved absolute mastery in skill, melded artistry with aesthetics, and topped it with a rockstar personality. Leg-spin requires great control, and Warne mixed that with flight, drift, revolutions and varying degrees of turn to leave even the finest players of spin in daze.
His ability to guess a batsman's approach and counter that stood out all through a career that started with little promise against India at Sydney in 1992 before taking wings. His potent partnership with fast bowler Glenn McGrath helped Australia rule the game in the 1990s and the 2000s.
Warne's fitness and weight often came into discussion, but not with batsmen fooled by his deliveries. The "ball of the century" to Mike Gatting in the 1993 Ashes series may be debated the most, but the flight, drift and turn to bowl VVS Laxman in the 2004 Bengaluru Test is perhaps of bigger significance as he helped Australia win their first series in India since 1969 in that Final Frontier Version 2.
The Aussie wins the debate on the greatest spinner over Muralitharan, who did not win a Test series in India and whose career was blighted due to allegations of chucking. Warne bounced back after being part of the team that lost the 1998 and 2001 Test series in India, and he imposed himself in the 1999 World Cup, helping his team win the trophy.
Considered the greatest captain Australia never had—it was due to his off-field controversies—he showed his leadership in Rajasthan Royals' IPL title in 2008. Cricket will also miss his insightful observations, and ability to call it as he saw it — never holding back to please the establishment.
Enjoy unlimited digital access with HT Premium
Subscribe Now to continue reading
Personalise your news feed. Follow trending topics