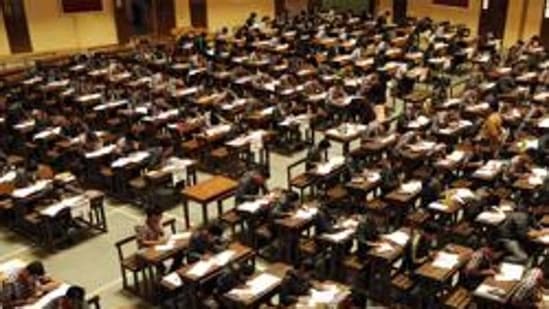 Give pass certificate, not marksheets for cancelled exams: UP Pvt Schools body
The Unaided Private Schools Association (Uttar Pradesh) has demanded that no marksheets should be issued for cancelled board examinations.
PUBLISHED ON MAY 30, 2021 11:23 AM IST
The Unaided Private Schools Association (Uttar Pradesh) has demanded that no marksheets should be issued for cancelled board examinations.
Otherwise, such marksheets would encourage schools to award the maximum marks to their students to make an impression among people that students from their institution have topped, the association said.
"Since all three boards — CBSE, CISCE and UP Board — decided to cancel the class 10 examinations and promote students to the next level, the boards must not issue any statement of marks. We feel as a consequence of cancelled examinations for class 10 in 2021 there is no need for marksheets," said Anil Agarwal, president of the association, in a letter to deputy chief minister Dinesh Sharma on Saturday.
The class 10 exams have already been cancelled by the Council for the Indian School Certificate Examinations (CICSE) and the Unaided private schools association has also written a letter to CISCE Secretary Gerry Arathoon to award pass certificates only and not statement of marks to ICSE class 10 students as there is no examinations for them.
Agarwal said, "Inflated marks will be sent by practically all schools to go past the 90 percentile pressure and authentication of these marks will not be possible in all fairness. If at all grades may be given based on marks sent by affiliated schools (any board), it will be unfair for meritorious students while average students will benefit."
Agarwal suggested, "Preferably only Pass Certificates mentioning Pandemic Year may be released. The same may be done for Class 12 examinations, if cancelled, due to unforeseen circumstances. This will take care of all discrepancies and students' confusion as well."
He said the government and schools must plan for the session 2021-22 in view of predictions by experts about a third wave of Covid-19.
"It is recommended that as a backup plan, should there be exigency for the 2022 board examinations due to the pandemic, a midterm offline examination be held for both class 12 and class 10 by the examination boards as soon as offline classes commence," he said.
"Mid-September to November 2021 as per calendar possibilities. These marks could be then used for promotions if required due to sudden lockdowns or closures," the association president suggested.
Though a mammoth task, online examinations may be considered for the 2021 board examinations for Class 12 and for both the class 10 and 12 students in 2022 with a request to government for appropriate infrastructure provisions of urgent towers in rural areas and cheap data plans, he said.
The association has demanded a special vaccination drive for all teachers and Class 12 board examinees "at the earliest". The demand comes when the state government is getting ready to administer one crore (10 million) Covid vaccine doses in June.
"This will definitely facilitate an examination with due protocols and no fear of contracting the virus," said Mala Mehra, secretary of the association, on Saturday. She claimed deputy chief minister Dinesh Sharma had said full assistance would be given by the government.
Mehra also said, "This should be made mandatory at the earliest and due arrangements be made for seamless execution."
"Covaxin will be a good choice as it has a four-week incubation period before the second jab, which will save on time should the offline examinations be scheduled for the latter half of July 2021," she said.
Close