Computers, not classes: meet the man who teaches children all about self-learning
Considered to be a pioneer in creating a self-organised learning environment, Prof Sugata Mitra wants children to study through discovery, sharing, spontaneity and limited adult intervention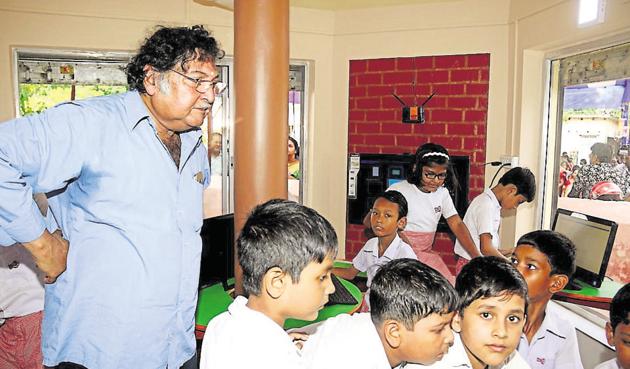 Updated on Nov 29, 2016 09:02 PM IST
Years ago, while working with IT training company NIIT, he made a hole in a wall, put a computer in it and went away. This was in India's Capital Delhi. Soon, curious children from slums close by walked up to the machine and within days learned how to use it, creating what's called a self-organised learning environment (SOLE) for themselves. Considered to be a SOLE pioneer, Prof Sugata Mitra, a professor of educational technology at Newcastle University, recently opened the ninth SOLE research lab (a tiny 15-feet cube of a room) in one corner of a rural school's playground in Dasghara, near Kolkata in West Bengal. Part of the funds for this initiative have come from the $1m TED Prize Mitra won in 2013 for the novel SOLE idea. Why Dasghara? Because it's located near his mother's ancestral home and the lab is in a school that was originally funded by his grand uncle and aunt.
Mitra's ideas seem revolutionary because he seeks to bring around a 360 degree change in the way children learn. His target group includes children who necessarily do not have access to education – and they're learning through computers. He has also created something called a Granny Cloud – senior women, grannies mostly, supervise the children's work on platforms like Skype and offer them advice and encouragement.
"To start a SOLE one needs a computer, internet connection, and students who are ready to learn. Students are given the freedom to learn collaboratively using the internet about subjects that interest them. An educator poses a big question and students form small groups to find an answer," says Mitra, who has done a PhD in solid state physics from IIT-Delhi. During a SOLE session students are free to move around and share information or change groups at any time. Towards the end of a session they can share what they learned with the whole group. SOLE sessions are characterised by discovery, sharing, spontaneity and limited adult intervention.
Mitra is a firm believer in the Internet and predicts, "Education will change because of the Internet. SOLEs and Granny Clouds may form a part of that change."
He also feels the Indian education system, particularly in government schools, is firmly rooted in the British system of the 19th century. "My impression is that both countries (UK and India) are struggling to change, but don't quite know what to do. The UK has liberalised a lot, India not at all. I have spoken to governments in both countries (and to governments around the world), they all see the need to change but are reluctant to upset the 'apple cart' (the 19thcentury British system, that most of the world follows). Examinations dominate our education system. Everything is in preparation for some mindless examination that tests for memory and outdated skills. No examination allows the use of the Internet. As such, SOLEs are of no use to them. The best changes have been made in Scandinavian countries, but even then, that's not enough. We need to accept a simple change: 'The Internet is not equal to cheating. The Internet is what our children will live with. The Internet is a vital life support system.' We should design schools based on this premise."
About the children he has interacted with till now – what are the qualities that he remembers about them? "They are all curious. They are more interested in things that we don't know as opposed to the things that we do know. The questions to which no one has an answer, as yet," he responds.
On how he has utilised the TED prize of $1 million, Mitra says, The Hole in the Wall led to the creation of SOLEs. SOLEs led to the creation of the 'Granny Cloud'. SOLEs and Granny Cloud became the School in the Cloud. The TED Prize was used to study the last bit and create the labs in India and the UK. "I am now funding the Schools in the Cloud with fees I get from lectures around the world, which is not as sustainable as I would like it to be," says the man who spends about 75% of his time with the projects.
Influenced by Schrodinger, Heisenberg and Freud from childhood and now by Tagore and Darwin, Mitra has a simple response when asked why his experiments have not been cited in prominent journals or been peer reviewed or endorsed by scientists: "I am interested in how learning happens. There is a bit of physics there that we don't understand yet. I am interested in that. If that interest helps children, I would be more than happy."
Close Story