Criminal law is a great career option for students: Sidharth Luthra
Dedication, hard work, stamina and perseverance are necessary for a successful career in law, says former additional solicitor general of India Sidharth Luthra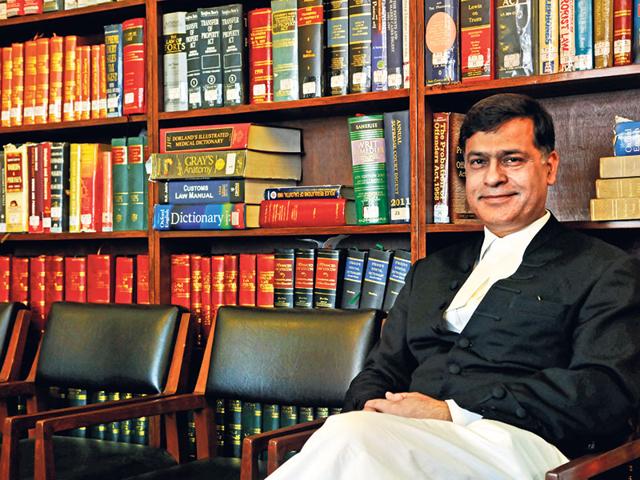 Updated on May 29, 2015 07:04 PM IST
Regarded as one of India's leading legal luminaries, Sidharth Luthra needs no introduction. Besides being a senior advocate, he served as the additional solicitor general of India in the Supreme Court from July 2012 to May 2014. Both as an independent senior lawyer and in his capacity as the additional solicitor general, he fought several high-profile criminal and constitutional matters in the Supreme Court and established himself as one of the top criminal lawyers of the country.
Luthra believes criminal law is a great career option for students as white collar crimes are on the rise. "Every now and then there are scams and it's exciting to deal with various aspects of human nature while ­handling different cases," he says.
Though Luthra's father, K K Luthra, was also an eminent senior advocate, he was not initially inclined to follow the legal profession and was more interested in architecture or journalism.
While doing his BA in mathematics from Hindu College in 1987, Luthra tried his hand at freelance journalism. It was only after he wrote a few articles on legal issues that he realised what his real calling was. It was then that he decided to do his LLB from Campus Law Centre, Delhi University. After completing the course, he started his career as a civil lawyer in district and consumer courts.
So what are the challenges that lawyers face? "Most litigations have a long gestation cycle. One not only has to prepare to argue the case in court but also interact with the police and other investigating agencies. The working hours are long and one has to be ready for phone calls at any time in the night (or day) since personal liberty, its deprivation through arrest or detention have no time! Also at the start of a criminal case, the clients are desperate for relief and there may be a quick change of lawyers which can be quite disheartening. One has to be ready to face all these issues that can happen at any stage of one's career," says Luthra.
To become a successful criminal lawyer, one needs to be dedicated, willing to put in hard work, have tonnes of stamina and loads of perseverance. "I believe these four qualities and integrity are fundamental to a successful career in criminal law. People believe that criminal law involves limited drafting and that the workload is not heavy. But be it a trial strategy, a bail or a cross-examination, one has to put in long hours of research before work begins in court. If you are not dedicated to this profession, this may not be the right career for you," he says.
Luthra believes that people who aspire to be successful criminal lawyers, must spend one to two years in civil trial work and at least one to two hours in a trial court doing criminal trials as "these are essential."
Besides LLB, Luthra also holds an M Phil in criminology from Cambridge University. He is of the opinion that anyone who wants to become a successful criminal lawyer should do a master's degree in ­criminal law or criminology and also have a fair understanding of forensics - scientific tests or techniques used in connection with the detection of crime. He has handled numerous cases related to white-collar crimes, and extradition and cyber-related frauds.
Currently a visiting professor at Northumbria University, UK, Luthra's long professional career as a criminal lawyer has seen him handling all kinds of cases. A very challenging one involved a man in dire financial straits. "In 1995, I once got a poor client released from jail by making an oral mention to a high court judge at his residence who gave an unprecedented oral telephonic order of release of my client. I felt extremely good as I helped my client get what he deserved. It was Justice K Ramamoorthy who passed this order. He now practices in the Supreme Court. For this particular case, I spent a whole day running around for the client's release and though I had the bail order, the magistrate on vacation had refused to accept bonds while my client languished in custody," recollects Luthra.
Yet another case related to the Tehelka Commission for which "my friend Kavin Gulati and I were pitched against the biggest names in the business but we survived. The cross-examination by George Fernandes (trade unionist, former defence minister) most challenging for various reasons, personal and professional."
Recalling another challenging case that concerned the impeachment of Justice Soumitra Sen, Luthra says, "It was the most taxing but one of the greatest learning experiences in my career. It involved the highest standard of competence and understanding of constitutional law, something I was not in touch with at the time. I had to argue before the Committee comprising Justice Sudershan Reddy, FS Nariman and Justice Mukul Mudgal who had deep and vast knowledge of every area of law and the Constitution. I had to slog hard to make the cut," he says.
On whether India faces a dearth of good criminal lawyers, Luthra is of the opinion that, "people are no longer casual about the defence since criminal trials are concluding much faster. There is a great need for quality criminal lawyers from early entrants to seniors and super seniors. Good, intelligent and hard working students should come into this profession as we really need people of quality here."
As for the number of hours a ­criminal lawyer has to devote to studying a case, Luthra says, "It depends on the nature of the task at hand. Preparing evidence can take hours. Even a bail application in case of ­non-bailable offences can take hours of research and strategising. There is no specific time limit. It varies from case to case."
Luthra says that while some cases take several hours and days, others can be readied within a few hours. "It also depends on how much time one gets to prepare for a case. Sometimes one has to work overnight for an appearance in court the next day. There are times when I get a case for bail one day before it is up for hearing in court. I have no option then to study it overnight and make ­preparations for arguments in the court," he says.
It's a rigorous schedule. "I still work for about 12 to 14 hours a day, six days a week and half day on a Sunday," Luthra adds.
On salaries, he says "Salaries vary from court to court, state to state and case to case. They may start from a few thousands and go up to Rs. 10,000 to Rs. 15,000 to much more, depending on the paying capacity or the generosity of the senior lawyer under whom a fresh ­candidate has decided to work. It may also depend on the quality of the work of the junior lawyer. Good work is a key to a great ­remuneration."
Briefbio
Sidharth Luthra
Profession: Criminal lawyer
Day begins at: 6 am
Day ends at: 11.30 pm
Work hours: Not definite
Social responsibilities: Has been running an international moot court educational programme in his father's memory since 2004
Family: Tries and spends time with his family over the weekends
Vacations: Minimum four family vacations a year
When not at work: Reads, listens to music and admires nature
Getting to know him
"You have to be so good and ­thorough that no one can lay a ­finger on you." This is what K K Luthra, Sidharth Luthra's father told him when he started his journey in the legal world. This today has become a guiding principle for him.
He formerly entered the legal ­profession in 1991-92 when he worked as a civil lawyer with Bhasin and Co but it was only in 1995 that he started practising criminal law.
In 2007, he was designated as senior advocate and in July 2012, he was appointed as the additional solicitor general in the Supreme Court. Luthra is fascinated by the ­mountains and takes off for the hills to spend time with nature whenever he gets the time
Corporate Lawyer
A firm grip on law
Disputes relating to companies, employees, creditors, directors, trusts, partnership firms, shareholders, stock exchange, partnerships etc all fall within the ambit of corporate law.
Companies are incorporated or registered under the corporate or company law. Any lawyer who specialises in the Companies Act and is well-versed with the statutes that deal with the formation of companies is known as a corporate lawyer.
Eminent corporate lawyers are of the view that candidates who can understand the vast complexities and intricacies of how the corporate sector functions can contemplate joining a law firm that specialises in corporate law.
Like all other law fields, this too demands hard work and thorough knowledge. Remuneration too is higher than what one earns in other specialisations. "No lawyer can become a good corporate lawyer or even a good lawyer without drilling in litigation though it initially pays less," says Pravin H Parekh, a Supreme Court lawyer, who has handled top corporate cases of the country.
Civil Lawyer
Civil proceedings
Civil law impacts every citizen. It covers land disputes, disputes between partners, family members, employers, employees on contract etc.
"A civil lawyer has to be well- versed with the provisions of the Civil Procedure Code, have hands-on experience under the guidance of an experienced civil lawyer. One should be very good at reading documents of the case and collect law points. Ability to draft a suit, applications, written statements, objections is the key to success. Good command over the language and understanding the queries of the court is a must to master court craft," says SK Pal, a Supreme Court lawyer.
A student who has completed his LLB, can also take up short courses on Intellectual Property Act, Contract Act, Transfer of Property Act, Torts, Consumer Protection Act, Arbitration Act etc to excel in the field.
With new laws being formulated to cover disputes of particular types like arbitration and conciliation etc for speedy delivery of justice, the jurisdiction of civil courts is being ousted or made optional.
Environmental lawyer
Inclined towards nature
The impact of human activities on natural resources and environment is the subject matter of environment law. Of late, awareness towards environmental degradation has increased and courts have become sensitive to issues pertaining to mining, deforestation, wildlife protection, air pollution, noise pollution etc. Keeping in mind effective and expeditious disposal of cases relating to environmental protection and conservation of forests and other natural resources, the government of India passed the National Green Tribunal Act 2010 and constituted The National Green Tribunal. Legal experts say that green law is going to be in demand going forward. "Right to a healthy environment is a constitutional right which people of our country need to understand," says Rahul Rathod, Supreme Court lawyer.
Close Story
Personalise your news feed. Follow trending topics