Improving the world by entrepreneurial action: 3200 students in India from 170 colleges are ready with plans
Student community outreach projects will compete before a jury of top corporate leaders at the Enactus India National Competition on June 17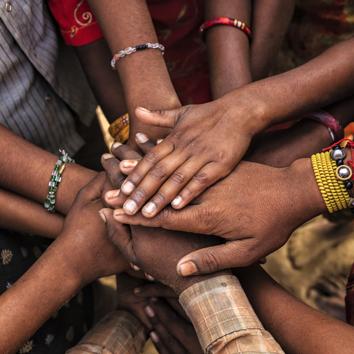 Updated on Jun 13, 2017 10:51 AM IST
Mumbai – They are budding entrepreneurs who aim to improve the world with businesses which help communities in need. And they are college students, determinedly pursuing projects on recycling water, reducing paper wastage, while dealing with the pressure of studies. On June 17, over 3,200 such students across 170-plus colleges of India will be competing for the top slot in the 2017 Enactus India National Competition.
Enactus India, a subsidiary of Enactus Worldwide, an international non-profit organisation of students with a focus on community empowerment, will host the competition in Mumbai. Upcoming student community outreach projects will compete before a jury of top corporate leaders. Winners will then have to slug it out with national champions of over 36 countries with over 72,000 active student members spread across 1700 universities for the prestigious Enactus World Cup 2017 to be held in London, England, from September 26-28, 2017.
Leading colleges and educational institutes, including Indian Institutes of Technology, (IIT- Delhi, Mumbai, Ahmedabad, Roorkee, and Madras), St. Stephen's College, Shri Ram College of Commerce, St. Xavier's College, Lady Shri Ram College, BITS Pilani, Delhi School of Economics, S P Jain Institute of Management and Research, Symbiosis Centre for Management Studies, Jamia Millia Islamia, IMT Ghaziabad will be participating, among others. Teams will showcase the impact and sustainability of their outreach efforts which will be judged and evaluated by C-suite leaders from corporates such as Mahindra, KPMG, Walmart, Unilever, Syntel and the Tata Group.
According to Dr Farhan Pettiwala, IAS, president and CEO, Enactus India, "The (Enactus) programme is designed to foster an entrepreneurial approach that encourages creativity and resourcefulness. With the support and encouragement of their Enactus advisors and a local business advisory board from corporate India Inc who mentor these students, Enactus students apply these business and economic concepts (which they learn in college) to develop and execute community outreach projects that improve the livelihoods of people-in-need (mainly Below Poverty Line) ."
On the most positive, heartening moments of his assocation with Enactus, Pettiwala says he has been truly inspired by witnessing young college students (both undergraduate and post-graduate colleges) take active participation in contributing towards making this world a better place . Students today have number of opportunities to seize, "as opposed to how closed our lives were back then in the '80s and '90s when we were in college." It is a wonderful experience to see how brilliantly they make the most of the platform like Enactus, he says.
On projects he has been particularly impressed with, Pettiwala lists Udaan as one of his favourites. "While each project has its own essence and goal, Udaan was impressive as it was aimed at increasing digital literacy and access to computers for women in rural India," he says.
Another successful case study was a model that focused on access and affordability of sanitary products as the primary solution to removing the burden of Indian women related to this rarely talked about biological function. College students trained about 25 women to sell sanitary products door-to-door. "Today, the 'sanitary solutions' project is operational in more than 17 slums in and around Delhi and has targeted over 20,000 women and their (female entrepreneurs tapped) household incomes have increased by 190%. The overall hygiene products have risen from 27 to 58%," adds Pettiwala.
Another project, Akshaar, was launched with the aim of recycling waste paper notebooks. "It is currently active at three production centres and has recycled over one million sheets of paper. In addition, more than 1,800 underprivileged students have benefited from these notebooks and some of them (including people who have been victims of human trafficking) have successfully seen a 2000% increase in their monthly income," he says
On the upcoming Enactus World Cup, Pettiwala said he was particularly looking forward to updates on a worldwide project, 1Race2EndWaste, where students were attempting to get closest to where the problem of food loss and waste is having the most negative impact – in small communities in developing countries. "Every year, more than 1.3 billion tonnes of food is lost and wasted, this negatively affects the ability to feed a growing population and the nearly 800 million people that go hungry every day. Enactus students have successfully created projects that are scalable across countries and continents. I believe that we at Enactus shall increase our focus on not only food loss and waste, but also prevent waste including e—waste," he says.
A Water Race initiative will also see students (from 36 countries including India) striving to address newer ways to the rising demand for water (usage and conservation) around the world.
Pettiwala feels it is crucial to look into such grave issues which are of major concern globally and "we at Enactus are empowering the Gen-Z to find newer solutions to address the same."
Close Story
Personalise your news feed. Follow trending topics