Indore gardener's son cracks JEE (Advanced) 2017, wants to develop tools to make father's work easy
Jun 12, 2017 06:20 PM IST
Arpit Prajapat from Indore, who has secured AIR 46 in IIT-JEE (Advanced) 2017, says his father inspired him with stories of mighty trees growing out of tiny seeds
Bhopal: Arpit Prajapat has worked hard to fulfil his father's dreams of seeing him do well in life. On Sunday, this dream was realised as Prajapat secured all-India rank (AIR) 46 in the Joint Entrance Examination (JEE) (Advanced )2017, conducted for admission to various engineering colleges, including the premier Indian Institutes of Technology (IITs).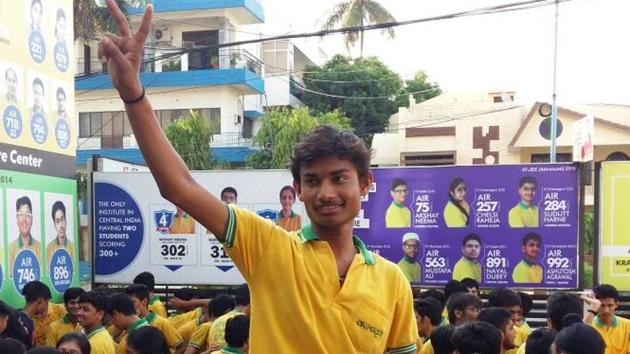 A son of a gardener from Madhya Pradesh's Indore, Prajapat dedicated his success to his father, Harenam.
"I am very happy that I was able to do well in Advanced. Consistent studies and a better understanding of the concept of science helped me score well," Prajapat, who secured AIR 244 in JEE (Main), said.
"My father faced a lot of hardships to ensure that I continue my studies. He worked for 12 to 14 hours in a day to change my life but he never shared his troubles with me. He always kept me away from all kinds of distractions - whether it be related to the family earnings or his pain," the 17-year-old said.
Prajapat now wants to make better equipment for his father, to make his work of tending the gardens easier.
"My father always motivated me to be an optimistic person by citing the example of the growth of a fruit-bearing tree from a seed. I want to develop techniques and machines that will help my father with his gardening," he said.
Harenam, who heard about JEE and IITs for the first time just a year ago, is on cloud nine after his son's success.
"When I visited the bungalows of officers in Indore for gardening, I dreamt of my son as an officer too, living a good life for him. I didn't have enough money to provide good coaching to him but since Arpit was a bright student, a coaching institute provided him free coaching."
Two years ago, Prajapat sat for a test organised by a private coaching institute and aced it to get a scholarship. Student of a private school under the Madhya Pradesh School Board in Indore, he scored 88% marks in Class 12.
Harenam, who earns Rs 5,000 to 6,000 a month, is now worried about submitting Arpit's admission fees and managing other expenses.
Nearly two lakh candidates appeared in the JEE (Advanced) - the second of the two-phase exam held in May for over 11,000 seats available in the 23 IITs across the country. The performance of a candidate in JEE (Advanced) forms the basis for admission to the IITs and the Indian School of Mines (ISM) in Jharkhand's Dhanbad.