Is Trump win an 'unwelcome' message for Indian students?
One school of thought says US attractiveness as a destination of choice for international students will be 'hurt'. The other says such worries are unfounded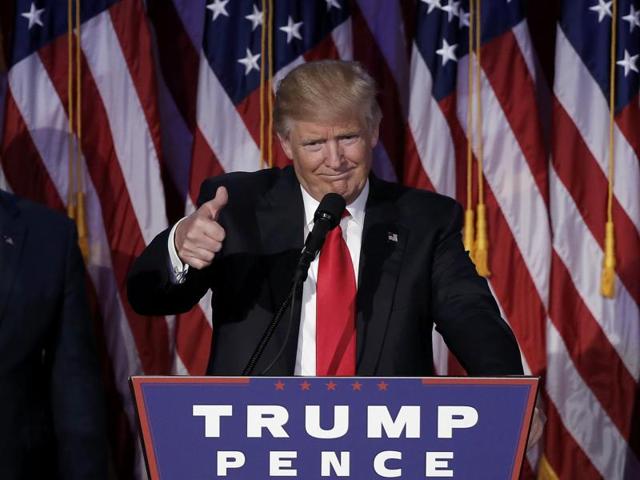 Updated on Nov 09, 2016 07:30 PM IST
Donald Trump's surprise win as president in the US will give an unwelcoming message to international students. It will hurt the attractiveness of the US as the most preferred destination of choice. It's an opinion, however, that many disagree with.
Dr Rahul Choudaha, co-founder, interEDGE.org, a US-based firm specialising in international student success, feels recruitment and admissions professionals will now have a hard time making a case for the US.
Business considerations are important to leaders. Prof Atindra Bhattacharya, head, marketing department, SOIL (School of Inspired Leadership), says Trump will in all probability actively look at participating with growing economies, India being one of them. The scope of such partnerships will involve academic tie-ups as well between the two nations, opening up the path for more students being accepted in US schools, partnerships for student exchange programmes, scholarships and Universities opening campuses across borders.
Adarsh Khandelwal, co founder, Collegify, a college consulting firm for study abroad, says students have no need to worry as higher education is a trillion dollar business for the American economy and India is the second highest in terms of sending students there. "They need us more than we need them."
The surprise presidential elections have put a question mark on Trump's immigration policies, especially as he has spoken of putting up border walls, stopping immigrants from entering the country and ending the use of the H-1B. Considering that one of the core values of international education is about celebrating diversity and learning from differences, Trump's viewpoints are insular and not in line with the values of international education. It is likely that the future policies will start looking inward and slow down international education exchanges and student mobility, Choudaha says.
Khandelwal says: "Trump said 'If I am elected president, the Indian and Hindu community will have a big friend in the White House.' He also described himself as a 'big fan of India'. So, despite immense speculation about the impact of Trump's victory on Indians studying and even seeking jobs in the US, I personally feel there is no reason to worry."
Choudaha prefers to be cautious. College application deadlines for the Fall 2017 admissions are fast approaching and these election results will give an unwelcoming message to international students. Career advancement is one of the prime motivations for international students to study in the US Trump's anti-immigrant stance may create stricter visa and immigration policies that may make it even more difficult for students to come to the US and find internship and job opportunities.
What should be expected going ahead? After Brexit, US elections have shown that nationalist viewpoints are gaining momentum. This, says Choudaha, will prompt visa and immigration policies to limit transition from education to employment opportunities. It is also likely to have chilling effect on the experiences of international students on some campuses located in strongly Republican states.
Close Story
Personalise your news feed. Follow trending topics