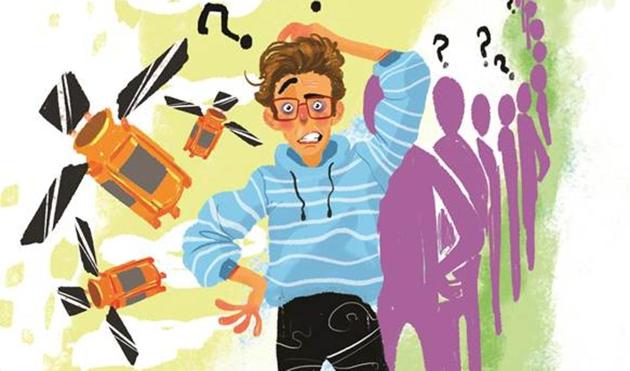 It's been a year of ups and downs for the student community
Trump and Brexit impacted study-abroad plans, there was plenty of mayhem over entrance tests. Among the highs: student inventions that made it into space.
Hindustan Times | By HT Correspondents
PUBLISHED ON DEC 29, 2016 02:51 PM IST
TRUMP, BREXIT HIT STUDY-ABROAD PLANS
Donald Trump's surprise victory in the US Presidential election — on the back of a campaign that was, among other things, stridently antiimmigrant — had Indian students rethinking their study-abroad plans in the US.
After all, if you can't get a job or a work visa in the country, that's half the mission unaccomplished.
Brexit caused some consternation too. With Britain opting out of the European Union — again, following a campaign that was stridently anti-immigrant — it was the younger ones that were wondering how to proceed, since the conscious uncoupling will take about two years. So, with the US and the UK no longer the dream destinations they were just a few months ago, where were the students to go?
Well, in keeping with the silver lining theory, new horizons opened up all at once. Some were tried-and-true — like Canada and Russia, where Indians have always studied, and where more Indian students are now heading.
Read: CBSE UGC NET Jan 2017 exam: Admit card issued, download them here
In Europe, France and Germany are attracting Indian students. In France, you get to enjoy access to leading academics, with small class sizes and intensive teaching, and that too for a low fee (compared to US and UK). And in Germany, you get a wide range of scholarships and very less tuition fees.
IITs BEGAN TO WOO FOREIGN STUDENTS
Bucking the trend, India's IITs opened their doors — albeit a bit belatedly — to the world. Foreign nationals will no longer need to travel to India for the JEE (Advanced) exam, which will now be conducted by the Indian Institutes of Technology (IITs) council in countries like Nepal, Bangladesh, Afghanistan, Pakistan, Sri Lanka, Ethiopia, Singapore and Dubai (UAE).
The IITs also decided, this past year, to add seats to accommodate these students without affecting the number of slots available in the unreserved or general category.
One thing we'd like to see in 2017? An upgrade in course and course material. Because, let's face it, the JEE Advanced exam wasn't the only thing keeping foreign students away.
Read: Online learning grows 50% in 2016; tech, English take lead
An Association of Indian Universities report for 2016 found that foreign students are choosing private and deemed universities over state universities across India, and educationists put this down to the fact that course material and programmes offered at these universities are so much more contemporary and relevant.
IT WAS A GREAT YEAR FOR STUDENT INVENTIONS
In September, the Indian Space Research Organisation (ISRO) launched a microsatellite called Pratham that had been made by students and exstudents of IIT-Bombay. The 10kg Pratham microsatellite measures the total electron count (TEC) in the ionosphere that can improve the accuracy of the global positioning system in India and predict tsunamis. Two other educational institutes, one College of Engineering in Pune and Chennai's Satyabhama University also launched student satellites this year. The nanosatellite Sathyabama Sat set off to collect data on greenhouse gases, water vapour, carbon monoxide, carbon dioxide, methane and hydrogen fluoride, in June, via ISRO launch vehicle PSLV- C34. And Pune's pico-satellite Swayam took to the skies on the same launch vehicle, to provide point-to-point messaging services to the HAM radio community.
IIMs TOOK A STEP FORWARD
One positive change this past year came when B-schools finally began to look beyond the decades-old formula, when deciding which students would be the best fit for the courses they offer. The Indian Institutes of Management finally began to rely less on CAT scores and more on group discussions and personal interviews.
Read: Interview to be key criterion for JNU admissions from next academic session
I mean, if a homeschooled child can get into MIT at the age of 16, as Malavika Joshi did in August 2016, surely it's time to rethink how the rest of us allot our seats.
So, unlike in previous years, this year students didn't have their noses hidden in their books for months on end. Instead, they also had to look around and connect with the world around them, form opinions, present and argue their point of view. Because how can you ever think out of the box if you've never looked beyond it!
IT WAS A TRICKY YEAR FOR DOCTORS- AND LAWYERS-TO-BE
There was the NEET debate to begin with. The sudden roll out of National Eligibility Cum-Admission Test (NEET) created a lot of confusion and problems for students. The Supreme Court then ordered that the second phase of the test will be held on July to fill the vacant seats. Students that appeared for NEET2 complained that government's lack of enthusiasm added to their anxiety.
And then the government's common entrance test (CET) for five-year and three-year LLB courses was delayed due to several administrative and legal issues including appointment of agency for online admissions, registration of colleges and their verification. Added to the woes, there were multiple revisions in the time-table and there was an extension in the CET deadline twice because many of the students from rural areas couldn't apply on time.
Read: Long way to go to boost PhDs: AICTE Chairman
Moreover, when the government finally did conduct the LLB CETs, the merit list was delayed. They blamed it on students selecting wrong categories while registering for the examination. That's not the end of it. The legality of the CET and CAP exams too were under speculation. It's because the company that was selected through competitive bidding process to conduct exams, backed out and the Institute of Banking Personnel Selection was given the contract instead.
ENGINEERING, INCIDENTALLY, FOUND FEWER FANS ON HOME GROUND
This year saw fewer students enroll in engineering courses — once the symbol of academic achievement and future success. You probably don't remember it if you're a student today, but many of us in our 30s and beyond grew up being asked that mildly annoying clichéd question: What do you want to be when you grow up — and we knew there were only two good answers: doctor, lawyer and engineer.
Read: Govt plans single entrance exam for all engineering colleges from 2018
Well, that of course was before the internet and indie films and EDM.
Anyway, back to engineering, much of India's course material — and indeed the courses themselves —haven't even kept pace with what's happening in engineering.
As fees go up steadily and the gap between what students study and what industry wants stays unbridged, the number of students seeking admission to government and private engineering colleges and institutes — excluding IITs and NITs — has seen a steady decline over the past two years. Numbers from the Directorate of Technical Education state that enrolment dropped by about 10,000 in the past year alone.
Close