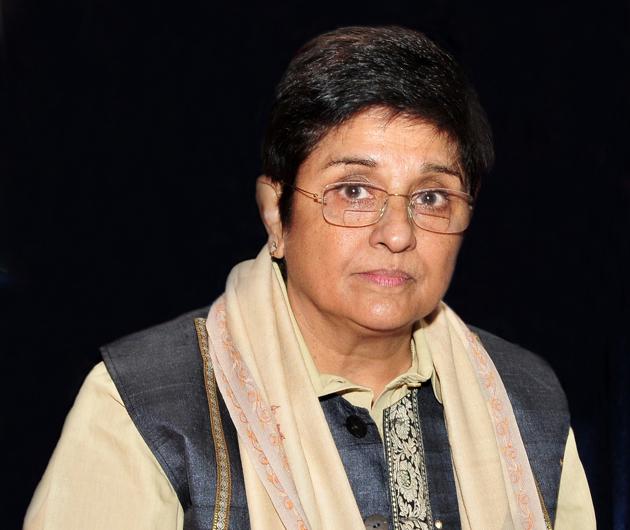 Kiran Bedi takes power tussle with Narayanasamy to MedicaI Council of India
The Puducherry LG in a letter to MCI denies receiving file from UT government seeking action against erring medical colleges violating admission rules
UPDATED ON SEP 07, 2017 06:16 PM IST
Puducherry's lieutenant governor Kiran Bedi has complained to the Medical Council of India (MCI) that it has been misled by the Union Territory government on the issue of irregularities in admissions in deemed universities and private affiliated colleges during the academic session of 2016-17.
In a letter dated July 12, 2017, she has said the government's claim that the file seeking action against the erring medical colleges is with the LG office is incorrect.
"The fact, however, remains that the file in question is yet to reach the portals of the office of the Lt Governor," Bedi in her letter addressed to MCI's president Dr Jayshree Pranshankar Mehta, said.
On June 27, 2017, the state government wrote a letter to section officer of the MCI, saying the cabinet had submitted a file to the LG office "for approval for taking up the matter with higher regulatory authorities viz the Medical Council of India, Ministry of Family and Welfare, University Grant Commission etc."
Bedi has asked the body responsible for maintaining the country's medical education standards to take action against the colleges.
When contacted, MCI's secretary Reena Nayyar confirmed that the council had received Bedi's complaint and was inquiring into her allegations.
"If found genuine, action will be taken against the colleges as per the MCI act," said Nayyar.
Bedi, who assumed office in May last year, has been involved in tussles with the V Narayanasamy-led Congress government on a host of issues. She has been asserting that being the administrator of the UT, she has the powers over administrative matters.
The issue of irregularities in admission to the medical colleges is among the major causes of the flashpoint.
Out of the 1,200 medical seats in the state, 767 were to be filled on the basis of National Eligibility cum Entrance Test (NEET) scores by September 30, 2016, the last date fixed by the Supreme Court and MCI.
"The government-appointed Centralised Admission Committee (CENTAC) empowered to conduct counselling allegedly colluded with the colleges and allowed them to violate all admission norms. It permitted the admission process to be continued till October 7, 2016," M Narayanassamy, president of Puducherry UT All CENTAC Students Parents Association, said.
"After the state government received a barrage of complaints from candidates regarding malpractices in admission, it appointed a Permanent Admission Committee (PAC), headed by a retired high court judge Chitra Venkatraman to get the whole issue investigated," he added.
The committee found that the norms were openly flouted by the colleges.
"However, the government is dragging its feet on taking action against the colleges. The LG's letter shows that the government lied to MCI. It didn't put up any file with the LG," Panchapakesan Ganesan, a parent, said.
He accessed the LG's letter to the MCI through an application under the right to information law from the LG's office.
Close