Loyola College: The college with a heart
Loyola College: One of the oldest colleges in the country, this institute believes in preparing students from across streams not just for great careers, but for improving the lives of others too.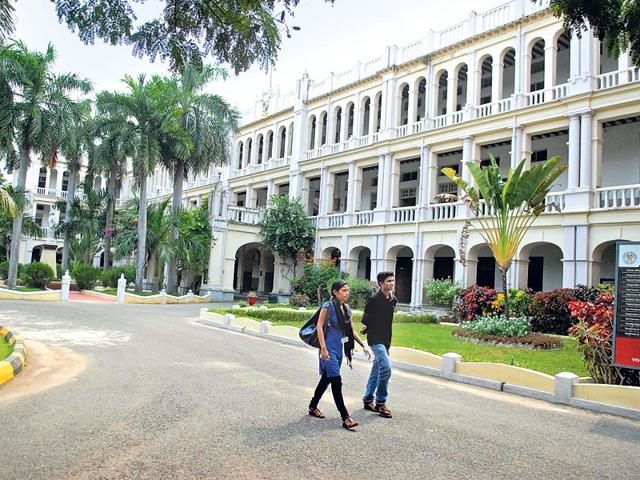 Updated on Jul 02, 2015 11:51 AM IST
"Before coming to Loyola, I always thought that BCom would be all about numbers and deciphering the corporate lifestyle. The first year of my college days quite matched with my pre-college assumptions. It was in my second year, however, that I learned that my course was beyond just familiarising myself with the world of commerce — it was about knowing life through the experiences and hardships of the poor people," says Barathy MG, a BCom (hons) student of Loyola College, Chennai.
The college, a Catholic minority institution, strives to better the lot of the disadvantaged. As a part of the institute's outreach programme, students from every discipline have to spend time with the poor at least for a few hours, twice a week. "We believe that every student of Loyola should be socially concerned. They should get exposure to the sufferings of the people around us. For a BCom or a science or arts student... the outreach programme is compulsory for all and not just students in the social sciences stream. We not only believe in sharpening the mind, but also seasoning the heart of a student. We are preparing students not for a job but for a better life. It is important for us to expose students to the harsh realities of life from the perspective of different segments of the society," says Dr S Albonse Raj, vice principal (shift-1) and vice chairman, Loyola College.
"We once met a lady who was a single mother. She was worried about the future of her child as she couldn't afford to send her to school. So, we decided to make her financially strong by collecting money from college friends and gifting her a tailoring machine, so that she could earn a living by stitching clothes," says Yousuf Shariff, an alumnus who did a BCom (hons) from the college. This is just one example. Another remarkable initiative was giving away blankets to poor people who sleep on railway platforms. "These initiatives are not directly related to our course, but these give us a sense of happiness," adds Shariff.
The college is known for drawing some of the best talent from across the country. Admissions to all the courses are conducted during May and June. "Preference is given to Dalit students, children of widows, children who are first-generation learners and Christian minors," says Raj. The college gives preference to students from the neighbouring districts of the state, but it gets a lot of applications from other parts of the country. This year, too, we have given admissions to students from Rajasthan, Kerala, Andhra Pradesh, Karnataka, West Bengal and Maharashtra, confirmed Raj. The college conducts an entrance test followed by personal interviews for all students seeking admission to the postgraduate programmes.
The college runs in two shifts. Shift-1 is supported by the government and the fees is less compared to shift-2 which is for self-financed students. BSc visual communication, BMM (multimedia and animation), MA media arts (Tamil medium only), MSc food chemistry and food processing, MSc medical lab technology, MSc medical sociology and MSc visual communication are some of the unique courses being offered at the college, says Raj.
USP
"Our multidisciplinary research park at Loyola is an initiative aimed at instilling the bug for research among young students right at the undergraduate level. The only criterion to join the research park is the enthusiasm of a student. They have to come up with an idea and they can develop it into a viable project with the help of a scientific mentor," says Raj.
Programmes
Undergraduate courses in shift -1 includes BA in economics, English literature, Tamil literature, BCom general and BSc in chemistry, mathematics, physics and others. Courses in shift-2 include BA in economics, French literature, BBA, BCom in corporate secretaryship and others. The postgraduate courses in arts streamincludes MA in social work with specialisations in community development; human resource management; medical and psychiatric social work; welfare of the disadvantaged sections; and human rights. MCom and MSc in subjects like chemistry and statistics are offered in shift-1.

Shift -2 offers MA in applied history, MCA (computer applications), and MSc in biotechnology, computer science and others. MPhil in economics, English, physics, statistics and PhD programmes are also offered.
Facilities
Hostels are provided for boys and girls separately. Merit-cum-means scholarships are available for deserving students.
Infrastructure
Spread across approximately 94 acres, the college has 145 classrooms, excluding the smart rooms and labs. There are 836 hostel rooms.
Faculty
There are 290 faculty members and 135 hold a doctoral degree.
Clubs and societies
The college has numerous societies but the society for debaters, citizen consumer club are popular among students
IT quotient
Campus is Wi-Fi enabled. The college has a digital library
Placements
Recruiters look for BCom graduates and those with BCom in corporate secretaryship.
Close Story