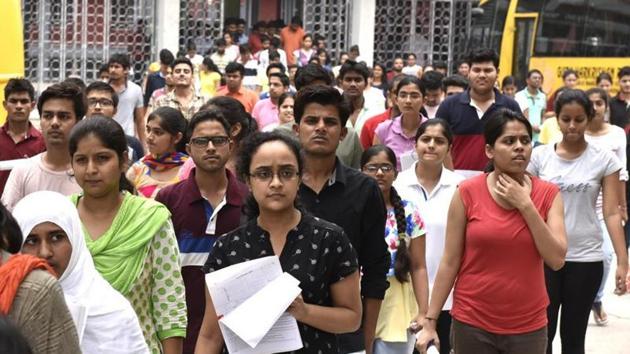 Minor glitches in CAT slot 1, but no major surprises
B-school aspirants who appeared in the first slot of the Common Admission Test (CAT) 2016 on Sunday were relieved as the test was on expected lines with no major surprises
UPDATED ON DEC 05, 2016 02:35 PM IST
B-school aspirants who appeared in the first slot of the Common Admission Test (CAT) 2016 on Sunday were relieved as the test was on expected lines with no major surprises. However, candidates complained of some 'errors' in questions and a few of them got logged out.
According to Ankur Jain, chief knowledge officer, Triumphant Institute of Management Education, the Indian Institutes of Management (IIMs) stuck to the same pattern as the one seen in 2015, both in terms of the number of questions in each section and in terms of the difficulty level of the sections.
The first slot was conducted in a glitch-free manner. "There were a few issues of students being logged out of the system, which were resolved quickly by the invigilators present," says Jain. No incidents of time loss for the students because of this were reported at the time of filing this report.
The paper consisted of three sections – verbal ability and reading comprehension (VARC), data interpretation and logical reasoning (DILR) and quantitative ability (QA) with 34, 32 and 34 questions respectively. Each section had a time limit of 60 minutes. However, there was no sub-section tab to identify and categorise the LR and DI questions within the LRDI section unlike what was seen last year.
Vijay Kalyan Jha, who has cleared CAT more than 10 times and appeared for it in the first slot, says, CAT 2016 was very similar to CAT 2015 in structure. The logical reasoning and data interpretation and quantitative ability sections were more difficult than CAT 2015. The difficulty level of verbal ability was similar to that of last year. A correct answer will fetch one mark and an incorrect one will have a penalty of 1/3 mark. Non-multiple choice questions (MCQ) did not have any penalty for incorrect answers. There was no penalty or reward for any un-attempted question.
However, the biggest problem in the QA section were the erroneous questions. There were at least three to four questions that had problems, says Jha.
Verbal ability was by far the easiest section of the test. "All five passages were easy to read and most of the questions were doable. Summary-based questions were also fairly simple. The only difficult part of this section was para-jumble questions. A raw score of 22 should be able to fetch 95-96 percentile in this section. In order to score a 99 percentile or more, one should need to score in excess of 25," says Jha.
LRDI was probably the most difficult section in CAT after 2005, feel aspirants. "There was no breathing space in this section and almost all the sets were either time-taking or difficult or both. A raw score of 10 should ensure a 95 percentile score. A score of 13 plus should be good enough for a 99 percentile score in this section," he says.
This section was a mix of easy, difficult and not so difficult questions. Most of the questions were from geometry, algebra and arithmetic. A raw score of 15 should fetch 95 percentile and a score of 19-20 should be close to 99 percentile in this section.
Overall, a net raw score of 44-45 should give one around 95 percentile and to earn 99 percentile and above one would need to score at least 55.
Read more: Do engineers have an advantage in CAT? Here's busting all myths
Read more: Do engineers have an advantage in CAT? Here's busting all myths
Close