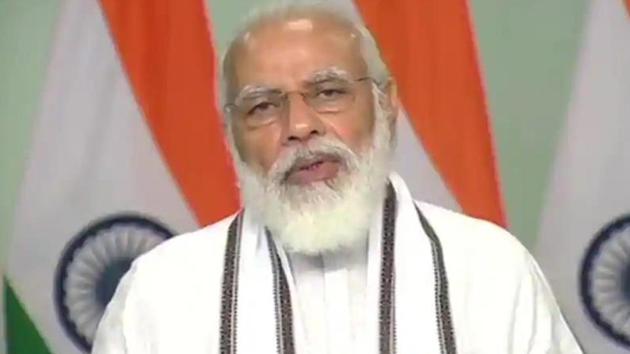 School students to have new curriculum framework by 2022, says PM Modi
Prime Minister Narendra Modi on Friday addressed the 'Conclave on School Education in the 21st century under National Education Policy 2020'. The conclave was organised by the ministry of education as a part of the "Shiksha Parv" which is being observed from September 8-25 to felicitate teachers and take the New Education Policy (NEP) forward.PM Modi had on August 7 delivered the inaugural address at the "Conclave on Transformational Reforms in Higher Education under NEP-2020." The Prime Minister had said then that NEP 2020 will play a major role in reducing the gap between research and education in India.
Speaking on 'School Education in 21st Century.' https://t.co/N0IXnJpkud

— Narendra Modi (@narendramodi) September 11, 2020
Hindustan Times, New Delhi | By hindustantimes.com | Edited by Akhilesh Nagari
UPDATED ON SEP 11, 2020 12:49 PM IST
12:21 pm IST
Teachers should teach in mother tongue of children till class 5: PM Modi
Till class 5, students should be taught in their mother tongue. It is important that students spend more time on learning the subject rather than a language. Students will also be taught international languages, including English, but Indian languages will also be promoted, said Modi.
11:44 am IST
Schools will adapt to new curriculum framework under NEP by 2022: PM Modi
The new curriculum framework developed under National Education Policy will reduce the school syllabus and make learning a fun-based and complete experience for school students. By 2022, our students will have the new curriculum, says PM Modi.
11:35 am IST
Need to develop critical thinking and creativity among students: PM Modi
Teachers should develop critical thinking, creativity, and communication abilities amongst students. In 21st century students should have these qualities, says PM Modi.
11:29 am IST
Do not limit classrooms to the walls: PM Modi
It is our responsibility to ensure that education is not just limited to the classroom walls, but education should also be linked to the outside world so that students can explore and learn, says PM Modi.
11:24 am IST
NEP 2020 to focus on foundation literacy: PM Modi
During the conclave, PM Modi said that to take the journey of 'learn-to- read' to 'read-to-learn', we are taking steps to strengthen the foundation literacy. We should aim to achieve that a class 3 student is able to read 30-40 words a minute.
11:17 am IST
NEP 2020 to develop scientific and mathematical temperament among students: PM Modi
The NEP 2020 lays down the importance to develop scientific and mathematical thinking among children, says Modi
11:15 am IST
NEP 2020 to give direction to 21st-century India: PM Modi
The National Education Policy 2020 is the foundation of the future of India. The education policy will give a direction to 21st century India, says PM Modi.
11:12 am IST
NEP 2020 has been made after putting in 4-5 years of effort: PM Modi
The National Education Policy 2020 took 4 to 5 years of efforts to be formulated, says PM Narendra Modi
Close