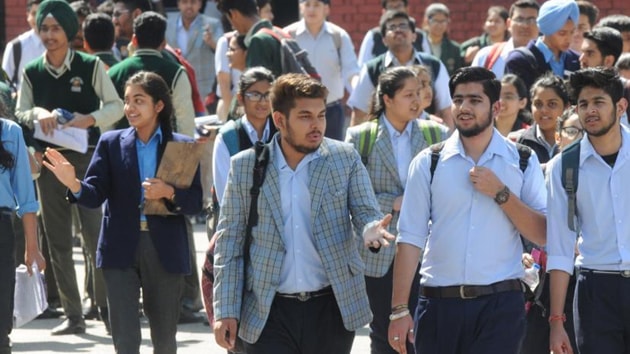 Paper leak: Students rejoice as CBSE cancels Class-10 Math paper re-test
Earlier, as the board issued a notification on March 30 about the re-test, students and parents came out on streets to protest the move.
UPDATED ON APR 03, 2018 09:16 PM IST
With the ministry of human resource development and the Central Board of Secondary Education (CBSE) deciding against holding a re-test for the Class-10 Mathematics paper, students across the city heaved a sigh of relief. While some were happy that they won't have to alter their vacation plans, others were of the view that if indeed there was a paper leak, it's unfair to the students who worked hard all through the year.
Chetan Chaudhary, a Class-10 student of Satluj Public School, Panchkula, said, "Maths is a difficult subject so I was very anxious about the possibility of a re-test. Moreover, I would have had to cancel my post exam plans and search for a tuition had the CBSE not cancelled the re-test. But now all my worries have been quelled."
Echoing a similar view, another student Ashish Sharma of Barwala said, ''The authorities have finally realised how stressful a re-test will be for students. As I am now free of this tension, I will plan a trip with my family.''
Some students, however, had a different view. Ritika Chadha, a Class-10 student of Bhawan Vidalya, Panchkula, feels that the decision of re-examination was valid. "As there are doubts about some students having access to the leaked paper before the exam, it's not fair to those of us who worked hard the entire year to score well.''
The teachers' fraternity too had mixed reactions to the developement. Neelam Katoch, a Maths teacher, said, "The paper leak will definitely affect the score of meritorious and average students. The students who were able to access the leaked paper will now score good without any efforts."
Leena Sethi, another teacher in the city, says, "The announcement about the cancellation of the re-test has certainly brought an end to worries of parents and their wards. Though the decision was worth the wait, the amount of stress that students have undergone remains unexplained. It is time for the CBSE to introspect about the situation."
Avtar Chaudhary, father of a Class-10 student said, "My son almost broke down when he heard the news of a retest. Where is the guarantee that the paper will not be leaked again? The decision of a re-test was unfair and pure torture. Now, as the board has decided to cancel it, we are feeling relaxed. Finally, children will get time to concentrate on their future plans.''
Earlier, as the board issued a notification on March 30 about the re-test, students and parents came out on streets to protest the move. Tricity students had also staged a protest outside the CBSE regional office in Sector 5, Panchkula.
Close